Peck's (J. S. Peck and Son) Furniture Factory was located on the lot now used as a parking lot (across from park). They kiln dried lumber, made furniture and finishing lumber for houses. Mr. Wolfe was Ed Willet's father-in-law and he ran a "turning" lathe. Turned out the big legs for dining room tables. Boards were glued together to make about six inch squares and the table legs turned out. V W. Peck was President of Citizens Bank, also with Dan Donavon who was the founder of Morrow County Telephone Company. In later years, the factory was sold to a company (Lamb and Kenneth Baskins) to make school furniture. They went bankrupt. (Grandma Hazel's note: They went into receivorship in 1922. Grandpa Herbert worked there. He was 19 (a minor). Had to get guardian (W. P. Vaughan) to file his claim for his wages when Lamb and Baskins went into receivorship.) In later years, the brick building was torn down and is now a parking lot (Foodland parking lot). V. W. Peck operated a lumber yard across the street until his death. (jdw note: His granddaughter and I used to go there and play.) The family sold the yard and home on South Marion Street and moved to Mansfield. At present time, the lumber yard belongs to Kenneth Graham and is not operating. At one time, the building where the laundry (on 2nd Street) is now located was a wagon shop. Had a small foundry factory. This was discontinued some time in 1880.
One time there was what was called a butter tub factory. White ash block was sawed to make tubs, mostly to handle butter. This was located at the end of Park Street. Dalton Dunham now owns part of the building. Just south of this building was a large building built and called the novelty building. They made hose reels, bag tuck (?) and such like. It was operated by a man by the name of Foot. A number of lots were set off down along Midland Street for building houses. This was called Foot's Addition and is still that name. This factory soon closed up. Then it was leased to Kilgore. He made paper caps and pistols. Finally, there was an explosion which killed Perl Akron and another man (Hartwell). It soon closed up. The Citizens Bank took over the building, sold out the machinery and then it was leased as a Stock Sale Barn. It soon folded up and in a couple of years the building was torn down and sold.
Bert Long's Saw Mill was located where Stall Mfg. Co. now is located. Mr. Long bought timber and had several teams hauling logs. Finally, this mill was sold to Mr. H. E. Smith. He operated as a handle factory. Made fork, shovel and hoe handles and made sucker rods for oil wells. They were cut from long hickory logs and were about 2 inch octagonal. These were used in oil fields to pump oil and went from one well to several. All could be pumped at once. Finally, Mr. Smith died and the mill was abandoned.
W. S. Stanly operated a hoop mill. This was located west of Stall Mfg. Co. Big elm logs were sawed into planks (2 wide?) and then placed in hot water and then sawed into 1/4" x 2" and then rolled in big bundles and stacked to be shipped for factorys to make wooden barrels. (Grandma Hazel's note: Bulk of work was for salt barrels and shipping barrels. Packed poultry in chipper. There was a machine called a chipper, Grandpa Herbert remembers. An old hobo came to town and asked for a job at the hoop mill. He told them he could run the chipper. He went downtown and bought a pair of canvas gloves, stuffed finger ends with cotton. It seems the chipper caught many fingers and he was wise to it.) They had about 60 men working at one time. Finally, this closed down and Mr. Stanly moved to California. Mr. Stanly was very successful in this venture but knew when to stop and seek new ventures.
At one time, our stock yards were on the north corner of what is now Stall Mfg. Hogs and cattle were brought in weighed, loaded in cattle cars and shipped to Cleveland. Ferd Rose, Walter Vaughn and Mr. Eckles were stock buyers. This was called Stock Yards.
Just south of Stock Yard was our first Electric Light Plant. It was run with steam engines and we only had lights at night. The street light was made with a carbon and a man went around each day and let the light down with a rope and put in new carbon. Finally, Mr. Geo. Schambs came to town, bought the plant, and built a new one back of Zeb Russell. Building is now standing. We now had electric in day time and began to have current for electric motors. Mr. Schambs operated this for several years and finally sold out to some of the same people who now furnish electric.
The hay barn on West Main Street was built by L. S. Russell and J. J. Curl in 1908.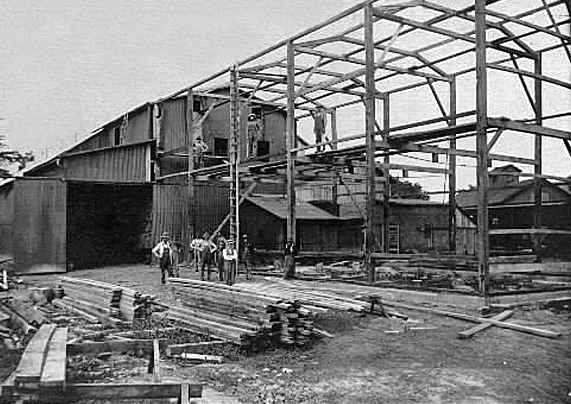 HAYBARN
Written on back of picture. This is the back part (south end) of haybarn being raised about 1911. L. S. Russell leaning against post wearing a black shirt and white suspenders.
They bought hay and hauled it in loose and then sold it. They had 6 or 8 teams hauling hay all the time. (Grandma Hazel's note: Dad (Grandpa Russell) always told me he shipped a carload of hay the day I was born - 1908.) Hay was unloaded by gas engine and ropes. It had two balers. This was used on the best hay that went to Eastern markets.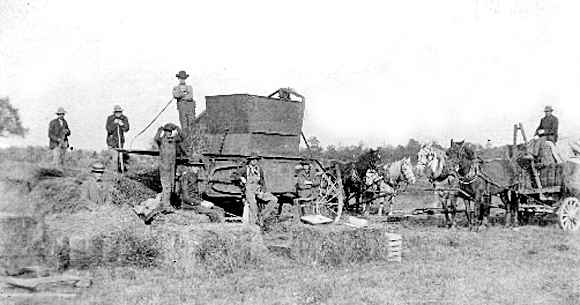 BIG HAY BALER
From left to right: E. M. James (Grandma Hazel's grandpa), on bale of hay ?, E. L. James (Uncle), standing on bale of hay?, standing on top of baler is Fred Heacock, below him sitting on bale of hay is L. S. Russell, two in front of baler?, and on wagon is H. C. Smith (Uncle Cliff). The ones not named are probably Uncle Cliff's boys. This was probably taken in early 1900's.
The small baler made bales to go to Southern markets.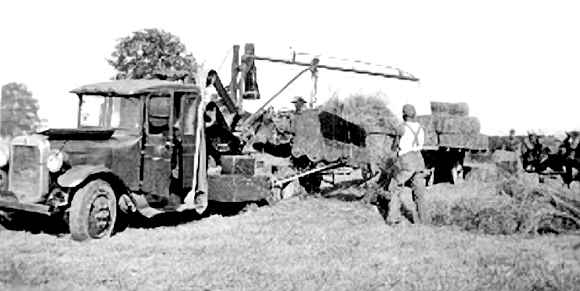 SMALL HAY BALER
In 1912, L. S. Russell bought Curl's interest. In 1914, he started to buy timothy hay cut with binder. He thrashed this hay and cleaned the seed. One year thrashed timothy for 90 days straight. Often would have 5000 bushel of seed at one time. As the auto came, we had less use for hay. About 1925, J. G. Mills leased part of the building and operated a feed store until he died. Then Mrs. Mills bought the former Mills Flour Mill, at West Main Street at the railroad, of Harry Kaelber, which is now in operation.
L. S. Russell started a feed store and farm machinery business and was very successful. He finally sold out in 1959. He is now a real estate broker.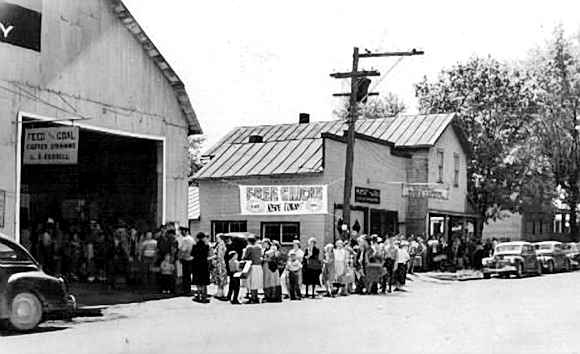 FEED STORE (MILL) FREE BABY CHICK GIVE AWAY - LATE 1940's or 1950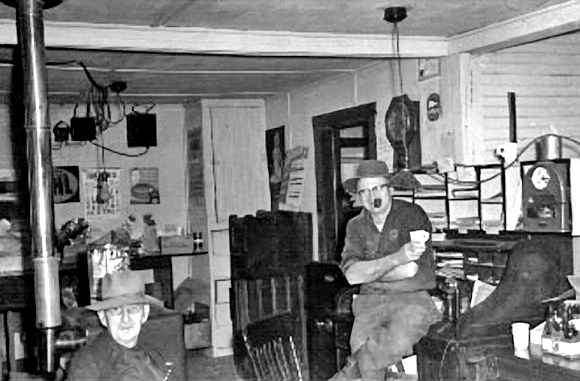 LENNIE RUSSELL AND HERBERT CAMPBELL IN THE OUTER OFFICE AT HAYBARN - LATE 1940's or 1950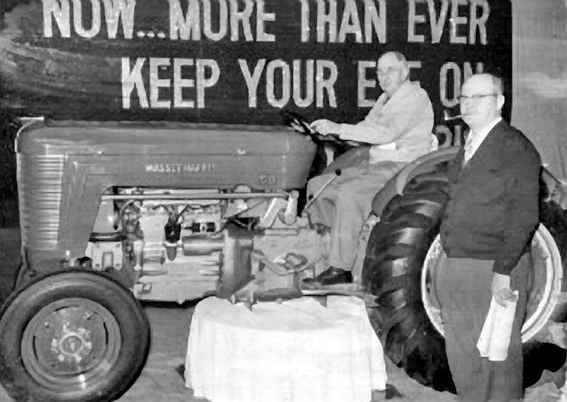 LENNIE RUSSELL ON MASSEY-HARRIS TRACTOR AT MORROW COUNTY FAIR AND HERBERT CAMPBELL STANDING - LATE 1940'S OR 1950. L. S. RUSSELL WAS DEALER FOR MASSEY-HARRIS.
In 1920, L. S. Russell started the first black raccoon farm in existance. He bred a pure black strain of black raccoon. He shipped a lot of them to foreign countries. He had close to 500 raccoons at one time. $500 was the price of a good pair of black raccoons. The 30's depression came along and all raccoons were sold for any price he could get. A good many went to state of Pennsylvania for stocking wild life.
In 1926, Karl Lamprecht started the Morrow County Gun Club. This was the second best club in the state. One time we had $3000 added money. This brought shooters here from all parts of the United States. Some of the very best. Guy Koon had the best average of any of our club. His average was 95%. L. S. Russell, at one time, broke 390 straight and missed one target out of 520 - but only averaged 94% for the year. The depression caused this club to close. (jdw note: The last time I saw grandpa Russell trap shoot, he was 81 years old and didn't miss a one!).

AT THE MORROW COUNTY GUN CLUB IN 1951
From left to right: Walter Hardesty, Charles Miller, Jim Thomas, Minor Maxwell, and L. S. Russell. Gun Club was across from Coon Farm.
The automobile has changed a lot of things. In 1908, Morrow County only had five autos. One was a White Steamer. One was a Holstman high wheels. One was a little red Maxwell. I cannot recall the name of the other two. The first auto agency was located on the corner (on the southwest corner of the square) where McClenithan now has a filling station. Billy Ruehrmund and Wilbur Buckingham operated it. Two Model T cars was all it would hold. V. W. Peck and Burt Mills bought the first two Fords. They came to Toledo by boat and they went to Toledo and drove them home. They came in on a Sunday afternoon. We were all up to see them. The date was 1909 or 1910. The first trip Mr. Peck made, he went to Marion. Took some Masons over to meeting. This side of Marion, on a curve, which is now 529, he turned it over. No one was hurt. I believe this is one of the first auto accidents. The first killing was Rob Sanderson and Ori Miller's boy. They hit a tree out this side of Maxwell's creamery (at the dam bridge) and the Miller boy was killed. After this, autos began to come fast, a lot of old makes that I have forgotten (very few are still made). My first car was a Brush, 8 horse power engine, single cylinder, chain drive. Two telephone batteries for the ignition (lift?), oiler on the dash, coal oil lights and of course, crank started. Speed under good conditions about 15 miles per hour. Cost $490 with tax. If you drove to Marion you could expect at least two punctures. We carried tire pump and two patches. The first garage built was the block garage on West Main Street, owned by Walter Long and Jacob Click. Built it first about 1914, it was burned with about eight autos. Several years later it was rebuilt and owned by Henry Axthelm. Later sold to Longs. E M. Willets built Longs Garage on East Main Street about 1919 and 20. Operated repair and auto agency. Sold Willy-Knight cars. (My note: Grandpa and grandma had a Willys-Knight and I loved playing in it.) Later bought by Long.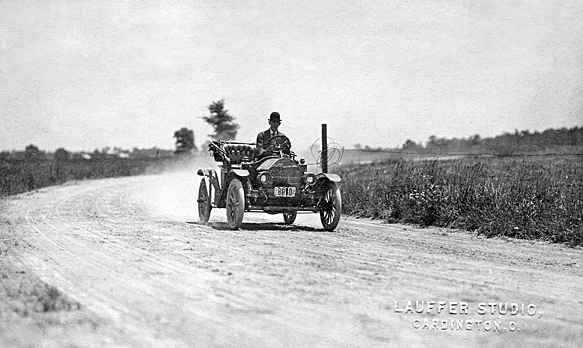 GRANDPA RUSSELL'S FIRST CAR
Grandma Hazel wrote on back of this picture: This is Daddy - Lennie Sanford Russell in little red Brush 1 cylinder, 8 horsepower, ignition, 2 telephone batteries set in box on dashboard. Cost about $375.00. On good roads, downhill, maybe 20 miles per hour. Walter Lauffer, Cardington photographer took this as a "speed" picture at Singer's racetrack east of Cardington in 1910. She also wrote on it - First car Daddy ever saw about 1905-06 was a Holsman. Had stearing bar, 2 engines under seat. First car mother ever saw was a White Steamer owned by Mr. Gregory (hotel).
Cardington Canning Company was built about 1900 where Shell Bulk Station is now located. J. W. Shaw and Otho Curl were main owners. Several others had stock. They canned corn and tomatoes. Corn and tomatoes were grown under contract by farmers. They operated about five years and closed the factory.
Originally, Tom Donn and Fred Lothe operated a whiskey distillery. The distillery was located back in Zeb Russell's junk yard.
One of the original buildings is used by Zeb for repair. A larger building was used to store the whiskey. It was put up in new oak barrels. The whiskey inspector called Gager would come and inspect, put on a government stamp, and then the barrels were shipped all over the county as ordered. Mr. Latter kept a pen of hogs. He fed them mash after being distilled. The hogs would get intoxicated, lay down and squeal. Mr. Latter was also a distributor for Hosters Beer. Had a building across the street. Unloaded beer from railroad cars. At one time, Cardington had seven saloons. There was a tax called (?Akins) tax that cost the saloon keepers $1000 per year. This money all went to the corporation to keep up the town. At that time, most bakeries were operated in connection with a saloon. Criss Kientz, John Kientz's father, had a saloon and bakery where Fanny Sheese now is and Herman Pliester had a saloon and bakery where the Firestone Appliance store is now located.
Hardware stores - Smith Demuth had a store in a large building where Burgraff Filling Station now stands. J. W. Shaws store was in the building now operated as a barber shop on South Marion Street. Rhuerman and Miller on West Main Street. All goods at that time came on railroad cars. Every night a car would be set off here and dray men would deliver the goods the next morning. Guy Case and Ralph Sanderson were two of the old time dray men.
Grocery store - Denman Brothers was located where Smiley's Market now is. Dan Donavan, Joe (D_d?), and Bridget was the girl. Donavans did a big business. At that time, bought butter and eggs. Farmers would trade produce for groceries. Donavans bought thousands of bushels of hickory nuts. Usual price was 50 cents for large and 40 cents for small. They had Huckster wagon. When roads were bad they would have four horses. On the wagon was a coal oil tank. Most people had coal oil lamps. They collected butter and eggs and delivered groceries. Mostly, the most common essentials like sugar, coffee, tea, baking powder. Salt was usually bought by barrel at about 75 cents. The Donavans all died with TB except Dan. Years later, he sold out to Clarence Farrington. Mrs. Farrington still owns the building. Mr. Donavan moved over on West Main and operated this store until about 1935. When he died, all property was sold to clear his estate. Ferd Axthelm and Charles Heimlich operated a large store where John Wilhelm now is. Ferd, Henry, and Cris Axthelm operated the grocery and poultry dressing plant. Charles Heimlich operated the dry goods department. (Grandma Hazel's note: Employed several people. Poultry was shipped.) Every fall before Thanksgiving, they bought turkeys and chickens. Dressed these and shipped to market. Mostly to Cleveland. At that time, we had a passenger train with express car that stopped here about 7:p.m. The dressed turkeys and chickens would be loaded at that time. Most farm women would raise 25 to 50 turkeys and some chickens. They would deliver the turkeys on flat rack hay wagons. The turkeys legs tied so they could not get away. It was some sight to see them come in. Finally, they discontinued business when trucks and autos came. Turkeys and chickens went to larger markets. Turkeys are now raised on large farms, four to five thousand in a bunch. His store has had several tenants since. (Grandma Hazel's note: Around 1923-24-25, Fletcher ("Fletch") Dennis had a grocery in what is now a home beside Bob Long's TV. At one time, "Dub" Caris had a blacksmith shop there. Fletch Dennis operated grocery. Paul Fleming had a shoe store. Finally, Axthelms sold building to Zeb Russell. He sold it to John Wilhelm who now operates it. A hardware and appliance store. John Underwood, one of the oldtime groceries, was located where Ivan Koon now has a grocery. People used to tell some amusing things about Underwood. One was, if he did not have what you asked for, he would suggest something else. The story is, a lady went in and asked for toilet paper. John says do not have it but have some nice sandpaper. Underwood died and Anderson of Richwood bought the building and now owns it.
Slicer and Wells had a buggy shop just west of Wilhelms. Made buggies. Was quite a business in the early 1900s.
Probably one of the first hotels was located just west of Zeb Russell"s on West Main Street. Building is now standing. It was called the Reed House and according to accounts, it was some place. The old Gregory Hotel on the corner at one time was quite popular. Traveling men came by train. Stayed several days. Drove teams of horses to other towns taking orders for goods of all kinds. Horsemen from the east came here every winter. Stayed a long time. Bought horses for eastern market. Walter Vaughan, Chas. Purvis bought for these buyers.
Old time doctors - Dr. Warmeling, Dr. H. S. Green, Dr. Neal. You could go to doctor's office, get a bunch of pills for 75 cents. Call to house was $1.50 and lots of times they did not get that. Dr. Warmeling rode a bicycle to call on patients when roads would permit. Of course, all roads were mud. No pike roads at that time. Other times, horse and buggy was used. At that time, it did not cost you a fortune to be sick. These old doctors went night or day, rain or shine and you could afford to be sick in them days.
Some of the things that happened:
Natural gas was piped into town about 1900.
Marion Street brick was laid south from square about 1898 in winter snow.
Horse racing on the snow in sleighs. Some winters snow would stay on several weeks. Big crowds would come to town and watch races.
Our first picture show was located where Zeb Russell's filling station is now. It was called Dreamland. They made the electric with a gas engine. Sometimes the engine would stop and we would be left in the dark. Elton Carter owned this place. The price was five cents in good weather. You could see baby buggies coming up and down the street. They parked them up front. One of the real characters was Eli Snyder. He always had a back seat. He would laugh so hard he always had everyone laughing too. Grandma Hazel note: Picture show - Bill Carter and his dad ran picture show. Herbert worked for them at Lyric Theater where telephone company is now. For free picture shows he turned camera around and showed pictures on wall across street. Was Jay Smith clothing store. Herbert knows about the carbon lights and how they worked. Same principle for picture show. My note: Speaking of picture show. When I was growing up they showed free picture shows once a week in the park during summer. People came early so they could park along the park and watch from their cars. Other people would spread blankets on the ground to sit on. This would have been in the early 1940's.
The Civil War Soldiers Monument stood on East Main Street near Mrs. Walkers. It was moved to Cardington Cemetary about 1896 where it now stands.
We used to have a toll gate just east of Cardington corporation on now Route 529. Cost five cents to drive a team into town. The money was supposed to be used to haul gravel on the roads.
The only murder I remember in this town was a man by the name of Shedrock Westbrook. It seems he came to town from Ashley. He was in Fred Lottis's Saloon and flashed a roll of bills. He started to go to the depot to take the 8 o'clock train. In about a week we had high water. He was found about a mile west of town washed up on a small bridge. Two men were arrested and spent a few years in the pen but it is very doubtful that they had the right party.
Yes, we had three livery stables here. Harley Singer and George Singer and Arthur Vail. You could hire a horse and buggy all day for $1.00. Usually three black smith shops to shoe the horses. This was big business when icy weather.
You have read about changing times. When you read this, draw your own conclusions. Perhaps the next fifty years will see a lot more changes.
Grandma Hazel wrote: Mother and dad remember how passenger pigeons were netted at my grandparents home, packed in barrels with salt, and sent to Columbus for sale. Dad helped work on South Marion Street. All men did this in payment.