OLD CARDINGTON POST CARDS
Please, if you know anything about any of these photos or
can add any information about them, send me an e-mail.
marlen@sgmedia.com

M. E. Church Greeting Card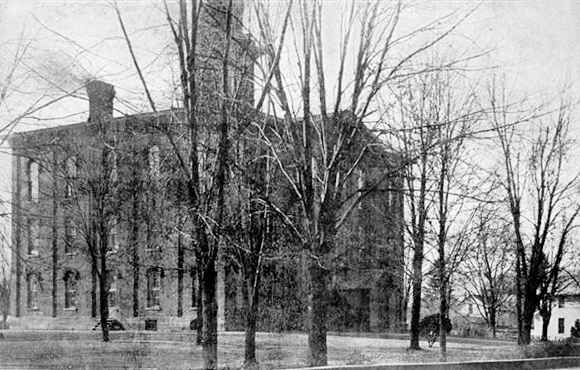 Union School Building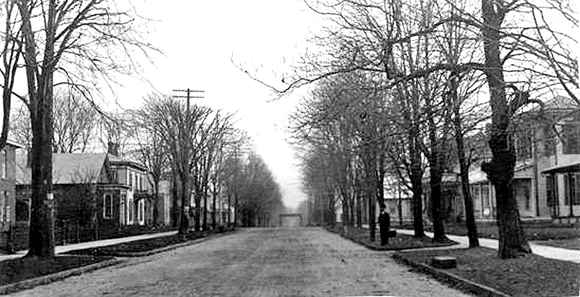 East Main Street, near Center St.
Notice the top of the Dam Bridge.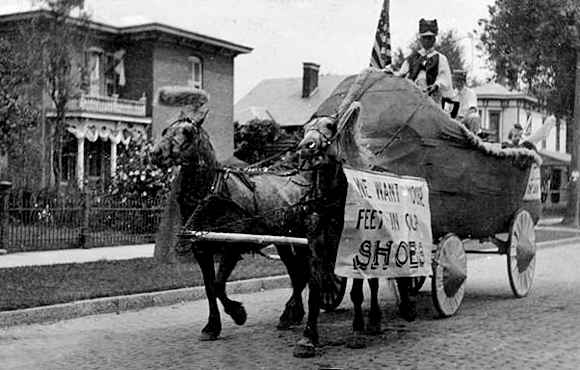 Harvey Steger's Shoe Store Float
on East Main Street, near Center St.
Uncle Harry Steger, driver, Mary Isabelle Steger, Hazel E. Russell and Guy Lee are in the float.
Mary Isabelle and Hazel had big bows and waved their stick pom-poms.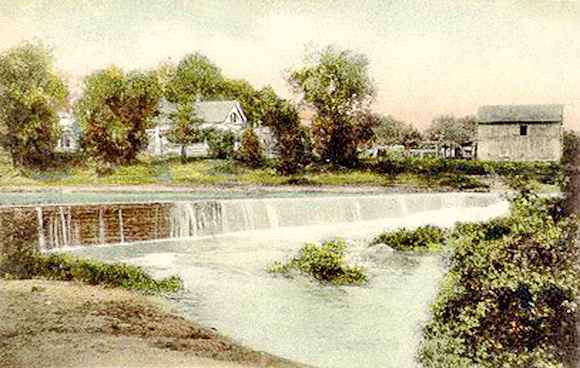 Cardington Dam 1908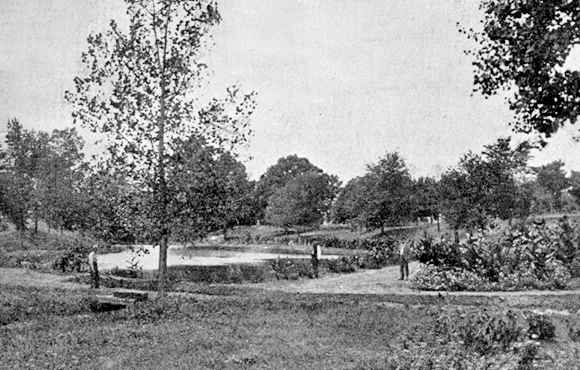 Lake In Glendale Cemetery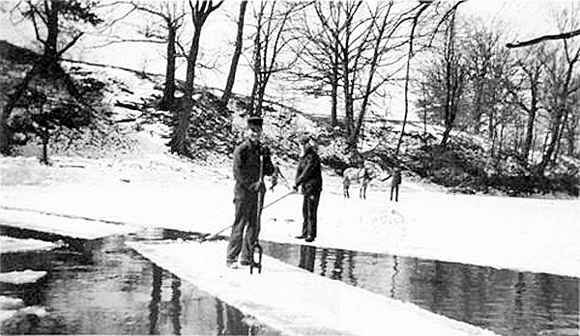 Floating Ice On The Whetstone Creek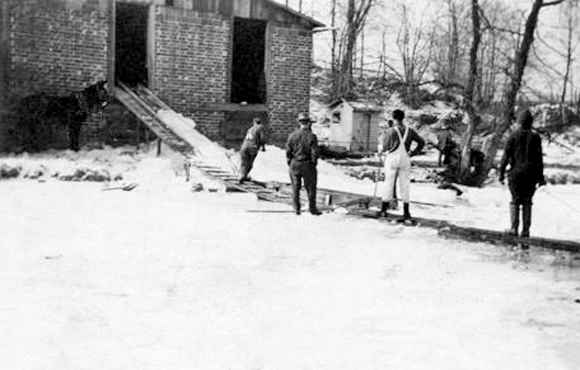 On back of card Hazel Campbell wrote: On Whetstone River, Cardington, O., South and East of Dam Bridge.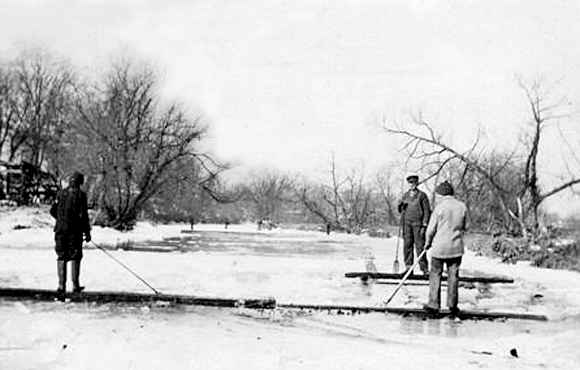 On back of this picture, it says putting up ice on creek at old ice house. Seeing these pics got me to thinking . Do you remember ice being delivered to people? Guy Rhineberger used to come to grandma's (Russell) every day to bring ice. He had some kind of enclosed wagon and a horse pulled it. He usually gave me a small piece of ice. He also delivered groceries twice a day. I don't remember when he quit using the horse. I wonder when they stopped gathering ice off the river.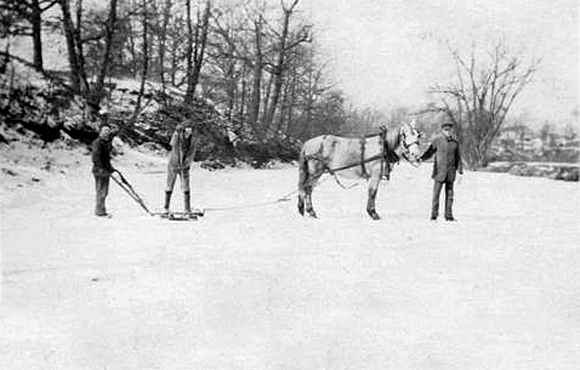 Cutting Ice On The Whetstone Creek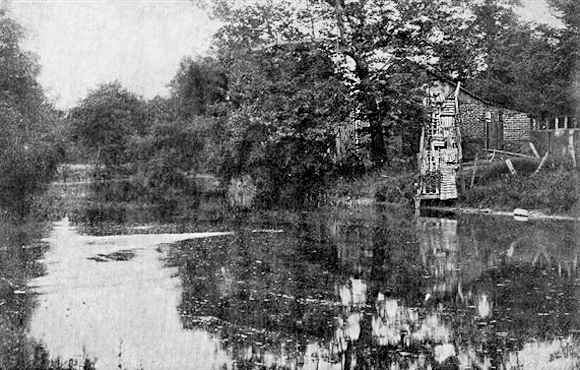 Singer's Ice House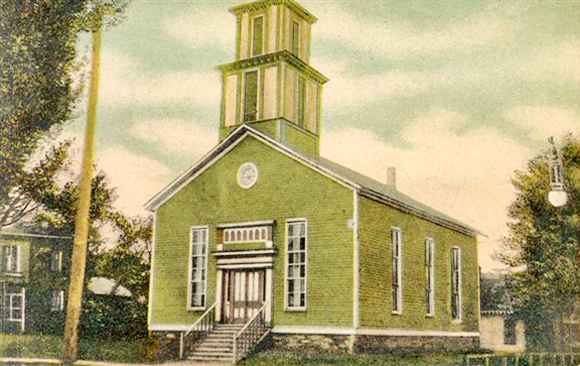 M. P. Church
I said I remembered going to a medicine show in this church building. Guess I'm not crazy after all! I asked my friend (Evelyn Long) in Cardington if she remembered. Now I wonder what year they quit using it as a church.
This is what she told me.
"The church building - after that church disbanded the building was used for community shows and events. I remember the Bartone Shows were there - like you, I can recall going to one - they had entertainment and gave things away. In 1948 the building was torn down and the present post office was built."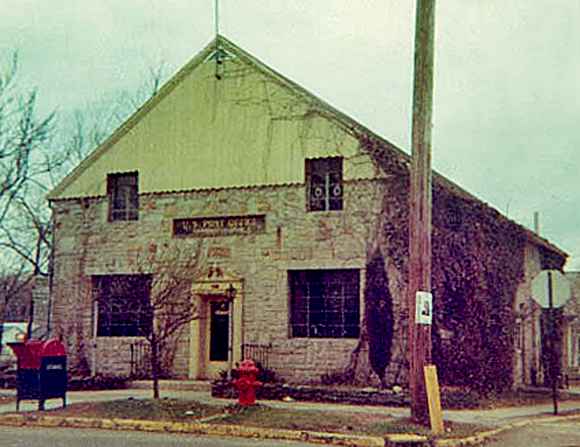 Post Office BUilding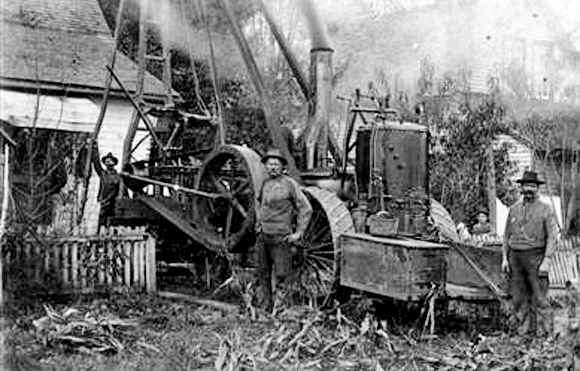 Drilling a well somewhere around Cardington. Names on back are hard to read, but looks like Abram Virgil (Fink), Tom Purvis, Jim Bollivar. No date. Notice the neighbor boy watching.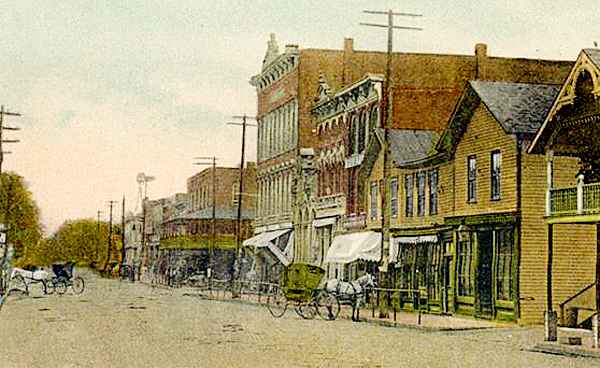 Main Street Looking West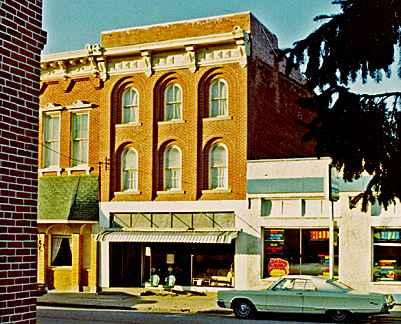 Main Street (1969) Look At The Top Of The Buildings And You Can See This Building In The Above Post Card.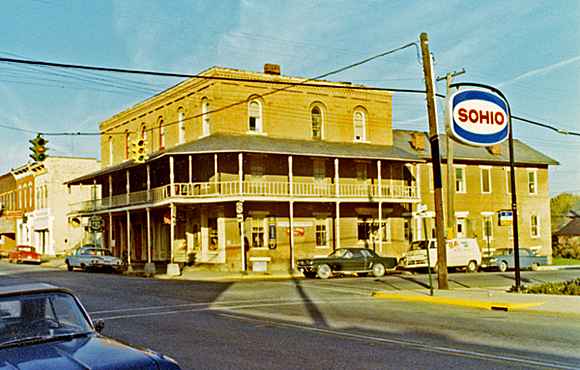 Main Street and Marion Street Intersection (1969) Looking Northwest. Look At The Above Post Card and You Can See The Balcony Of The Hotel.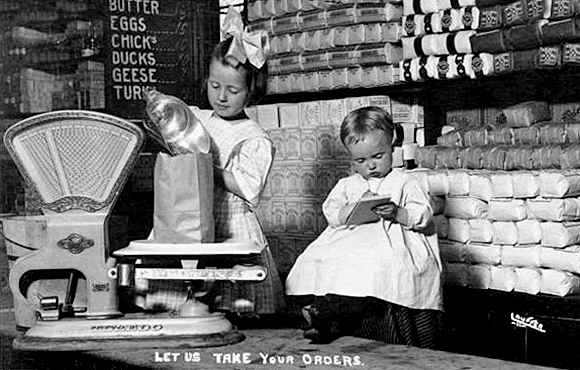 These little girls in this picture are Helen (the oldest) and Mary Margaret Farrington in their father's grocery. Mary Margaret and my mother (Hazel Campbell) were friends all their lives.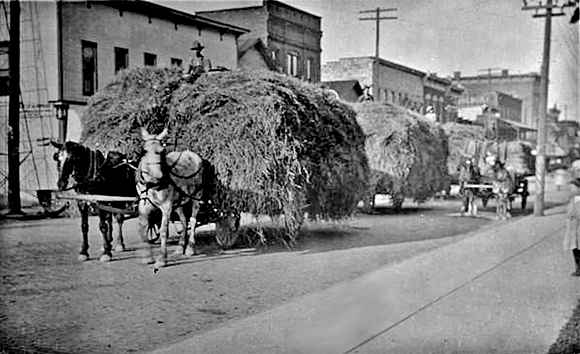 Hay Wagons 1910
Hazel Campbell wrote on back of this card.
Left of picture - water was pumped for horses.
North side of Main St., East of RR
Building 1 Smythe Bldg.
Building 2 Slicer and Wells Buggy Shop
Building 3 Brundige Bldg. Dean's Dept. Store (See Below)
Building 4 Dotys Restaurant
Building 5 People's Store
Building 6 Rhulman & Miller Hardware
Hay on the way to L. S. Russell Hay Barn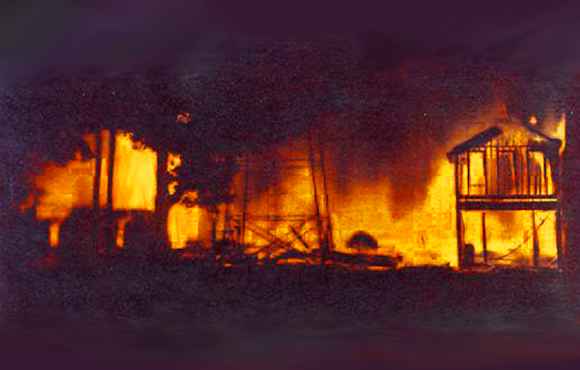 Dean's Fire
Looking North From Across The Street In The Park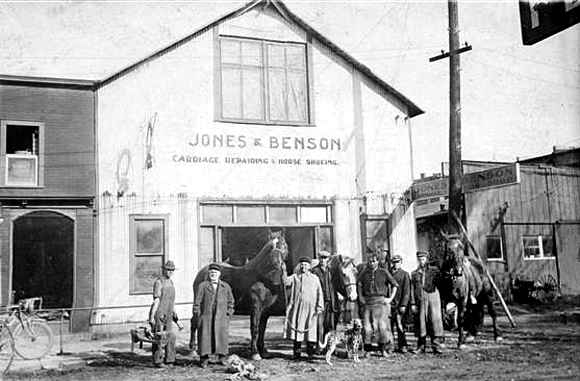 Jones & Benson
Carriage Repairing & Horse Shoeing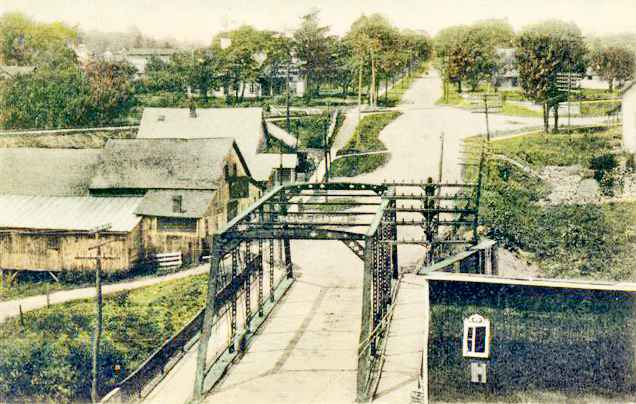 Looking North Towards Marion Street Bridge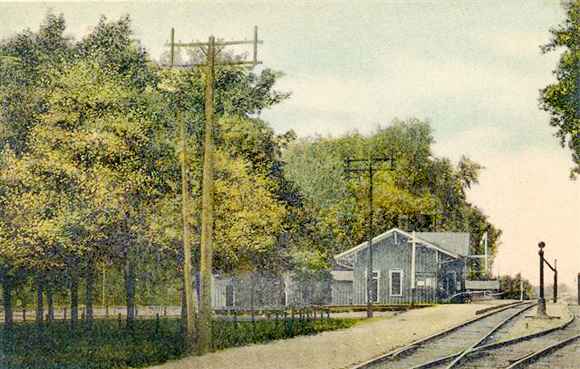 New York Central Railroad Station
(Looking South)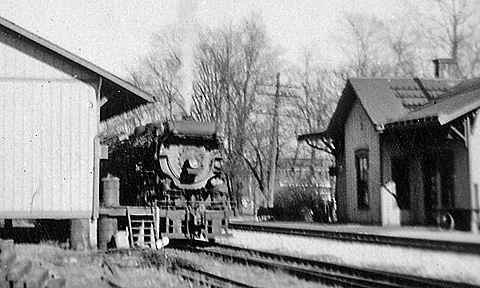 New York Central Railroad Station (1950)
(Looking North)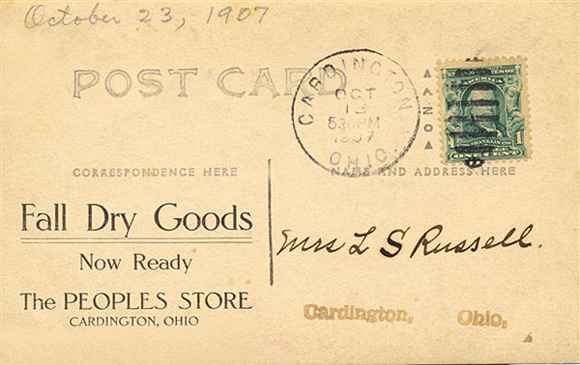 Address Side Of Cloak Opening Post Card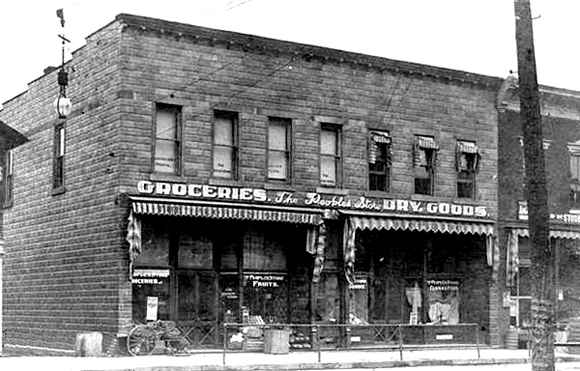 Cloak Opening Oct. 23 1907
Do You Remember Wilhelm's Store?
It Was In This Building.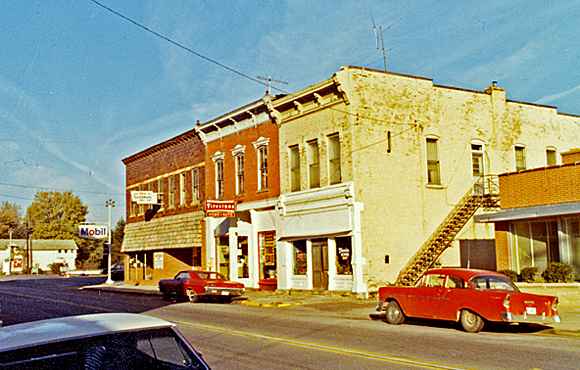 The Peoples Store / Wilhelm's Store (1969)
(Looking Northwest)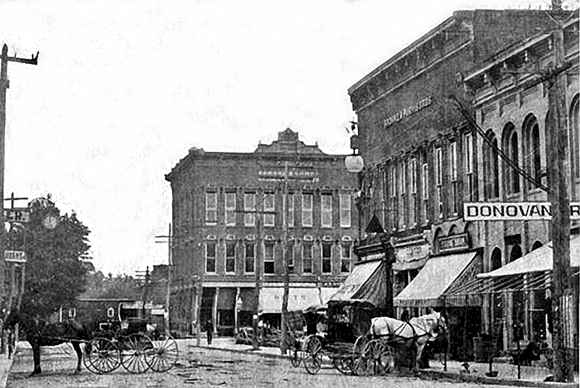 Marion Street and Main Street Intersection Looking North. Notice The Buggy On The Left, It Is A Slicer and Wells Buggy. See Photo Of A Slicer and Wells Buggy Below. One Of The Arched Windows Of The Next Building Was Used As The Background Of This Site's Home Page.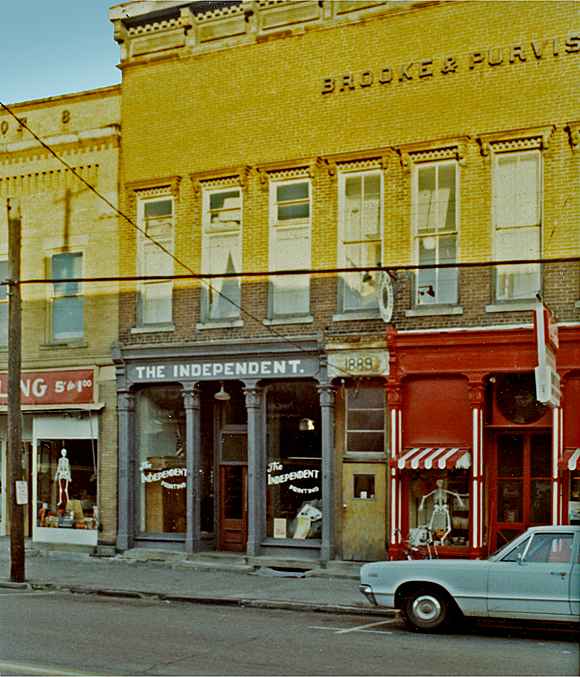 East Side Of Marion Street (1969)
You Can See The Brooke & Purvis Building in the Above Post card. The Metal Motif Used In The Banner On The Pages Of This Site Came From The Top Of This Building. The Independent Was The Cardington Newspaper.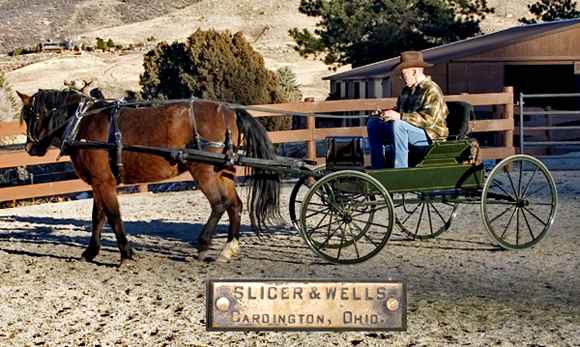 I Purchased This Slicer And Wells Buggy From Dell Kolida Husband Of Ada Herbert Kolida In 1983. Dell And Ada Had Bought It From Another Party, So It Did Not Originate In The Family. I Had It Restored In 1988 In Lancaster Pa. By An Amish Buggy Shop. The Photograph Inset Is The Label That Is On The Back Of The Buggy.