Going from left to right, Herbert is the second one, and Carl is the seventh one (in front of the tree). Herbert was not quite 8 years old when this picture was taken. They skipped him over 7th grade. He started to Cardington High School in 1917.
Names of those in the picture Left to Right: Burl Bartlett, Herbert Campbell, Ray Miller, Harry Pfirsch, Arlis Reichert, Ralph Miller, Carl Campbell, Milton Klingle, (?), Ellsworth Bartlett, Harold Augenstein, Harry Miller, Bernice Bartlett, Florence Reichert, Elva Hartpence - Teacher, Gladys Augenstein, Violet Hartpence, Bessie Bartlett, Grace Augenstein.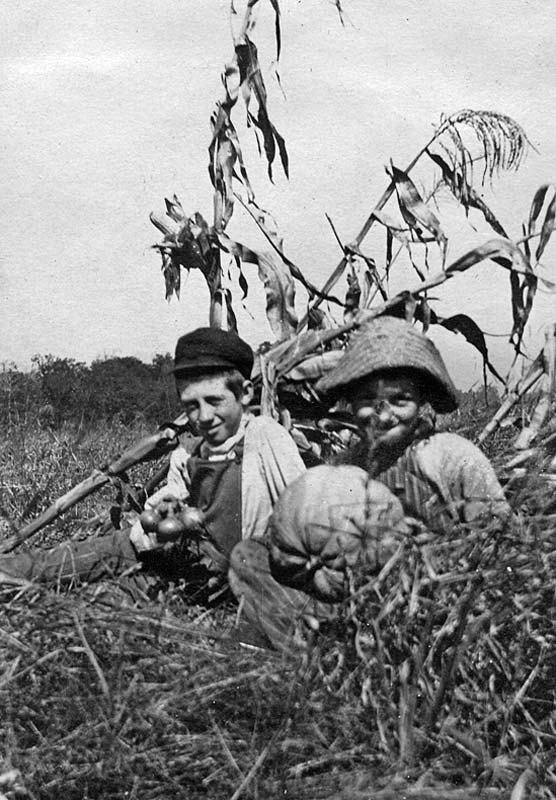 Carl (11 years) on left and Herbert (9 years) in the garden. Love those hats!
Picture taken summer 1913.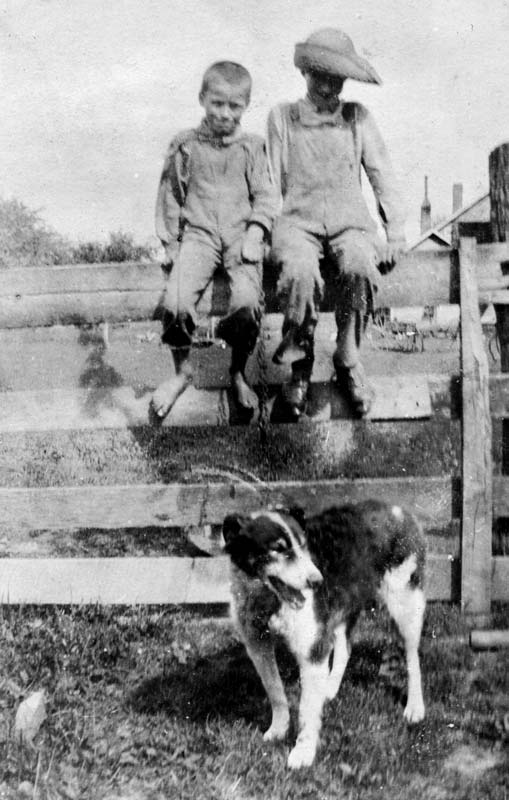 Herbert and Carl with Queen, summer of 1913.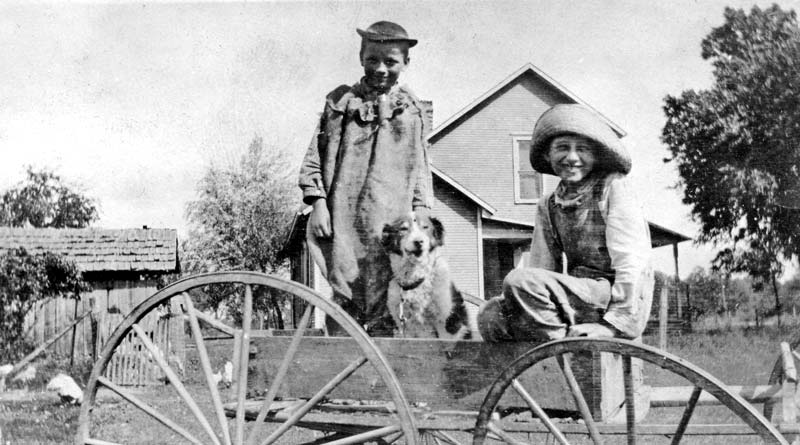 Grandma Campbell labeled this photo "CLOWNS Herbert & Carl & Queen", summer of 1913.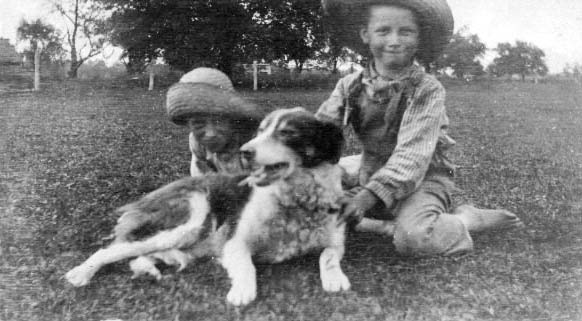 Carl, Herbert and their dog Queenie, summer of 1913.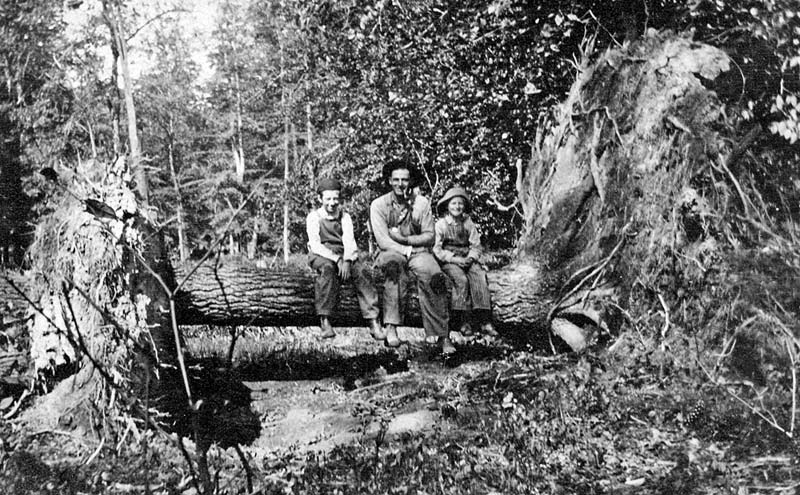 Carl, dad and Herbert sit on a huge tree that apparently had been blown over, summer of 1913.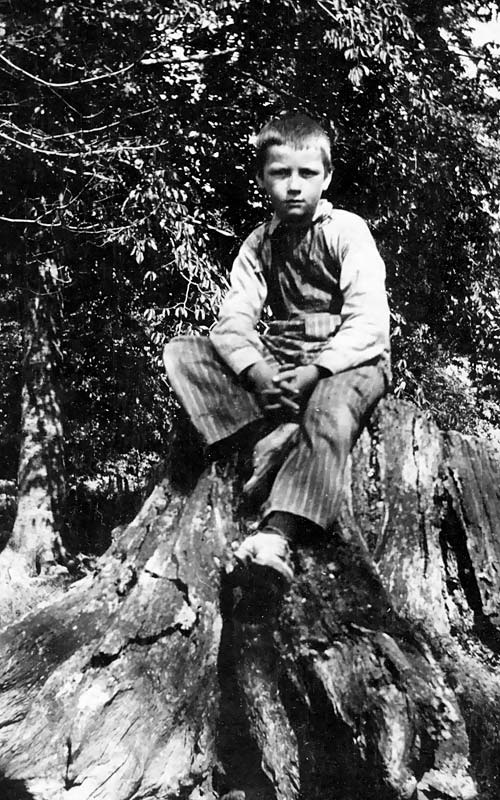 Herbert on stump, summer of 1913.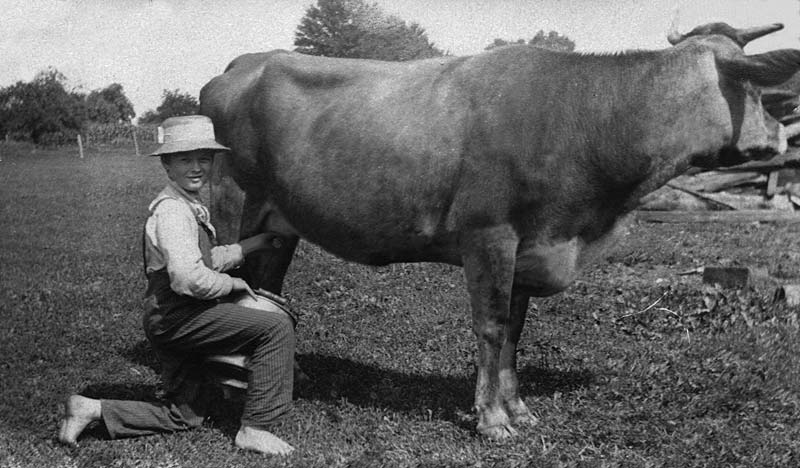 Herbert Milking
On back of picture: 1915 - Herbert Bernard Campbell with Bessie (raised from a calf). He says he had to milk, this picture is not pretending!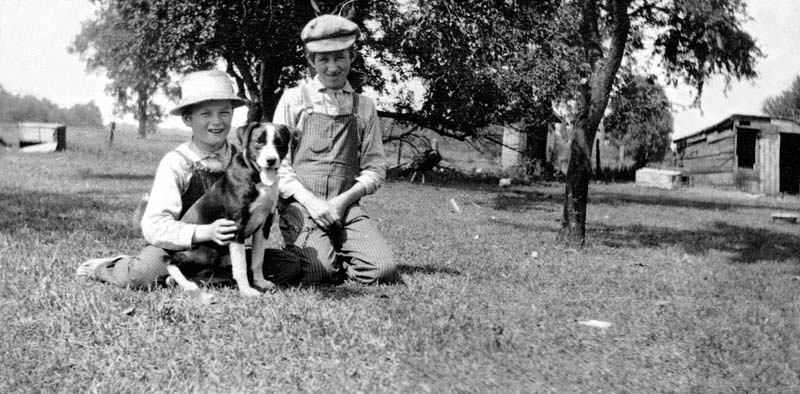 The boys got a new dog "Spot", summer of 1915.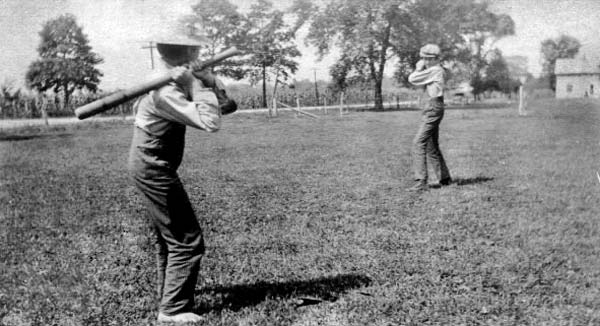 The boys found time to play ball, summer of 1915.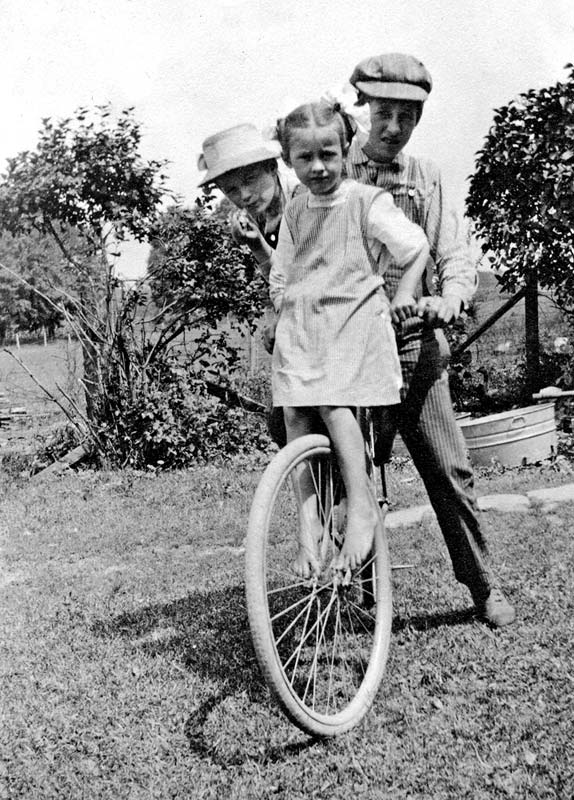 However, the boys found time to include their sister, Ruth, (7 years) in their fun.
Taken summer of 1915.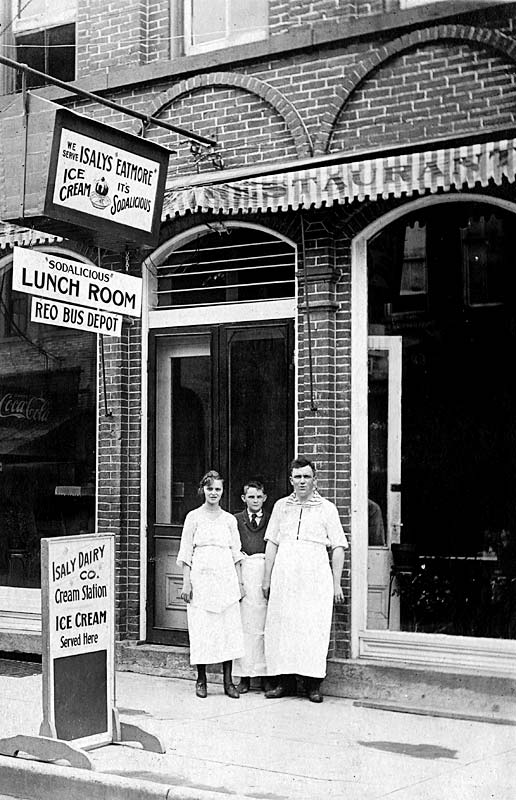 He first worked helping his father in an Isaly's store. In the back room of Isaly's, they had butter and eggs they had bought from farmers. In the front of the store, they sold Isaly's ice cream, sandwiches, candy and tobacco. Isaly's headquarters was in Marion, Ohio. We don't know the people in this picture.
Around the time he was working in Isaly's, he bought his first car. It was a gray touring car and had side curtains to hurriedly snap on if it rained.
Jean's note: I don't remember what year, but Chester Shaffer came to live with us to help my dad. He was nine years older than I was. He drove a milk truck for Isaly's. Early every morning, he would drive to the farms and pick up cans of milk. Then he would drive the truckload to Marion to unload it. One time, he took me with him. When we got to Marion, they unloaded the truck and then Chester got me a big ice cream cone! Fun for me!! Isaly's ice cream was the best! Also, when I was around 10 years old there was a handicapped man who didn't live far from us. I can't remember his name. Everyday, he would pay me to go to Isaly's to get food for his meal.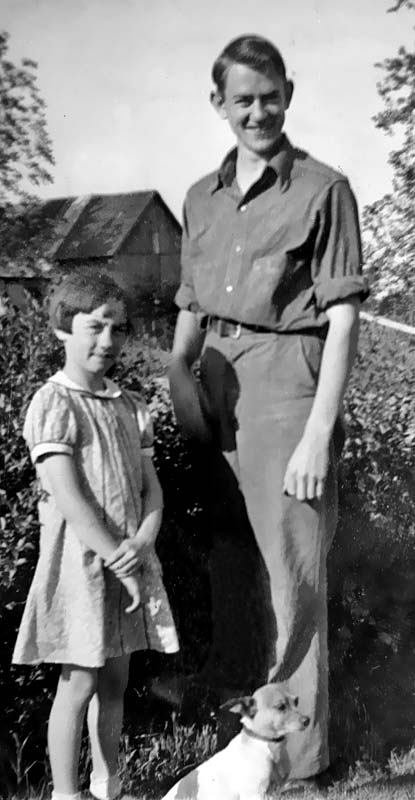 JEAN, CHESTER SHAFFER, AND PATTY ROSE 1937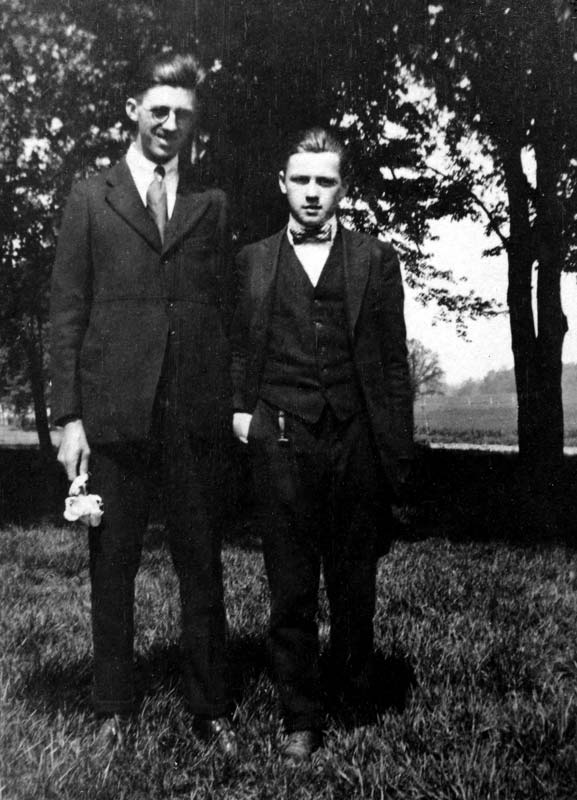 Carl and Herbert, picture taken on the Burr Place summer of 1919.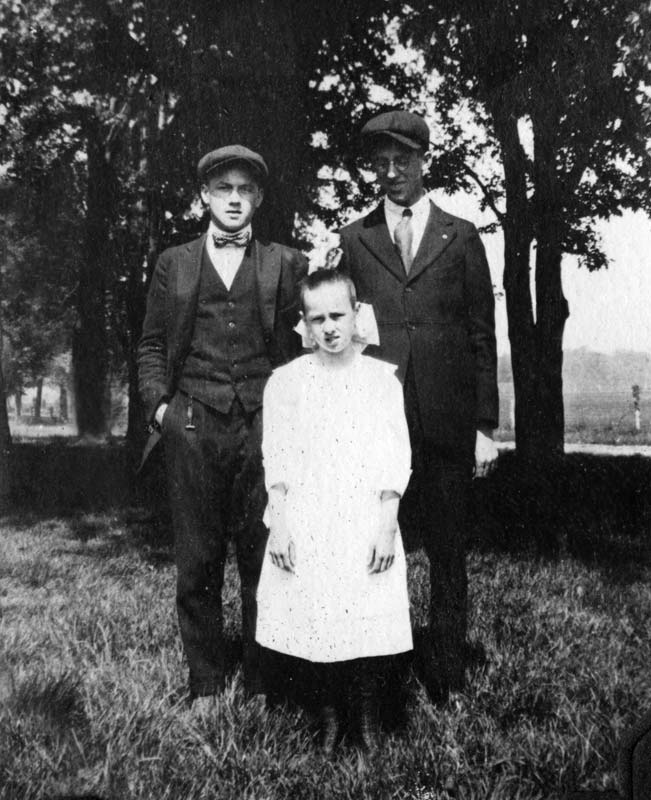 Herbert, Carl and Ruth, picture taken on the Burr Place summer of 1919.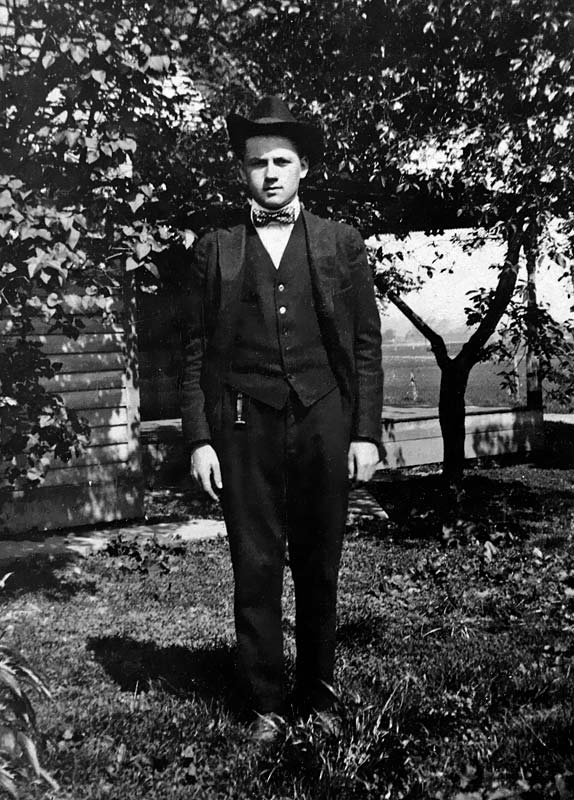 Herbert, picture taken on the Burr Place summer of 1919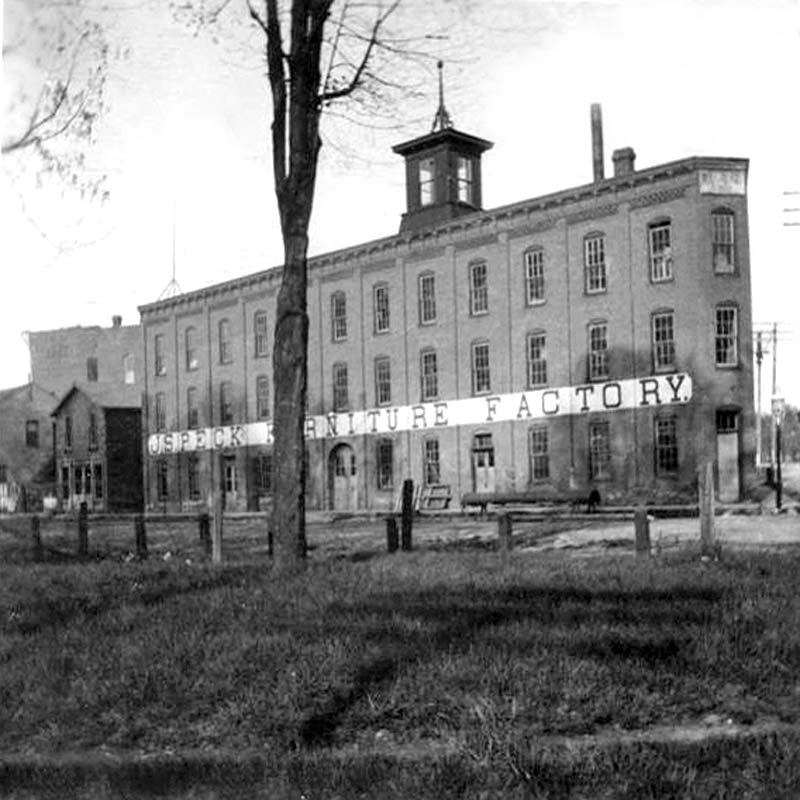 This picture of the Peck Furniture Factory was taken after Herbert worked there. He worked there in about 1920. Peck's Furniture Factory was on Park Street across from the Cardington Park.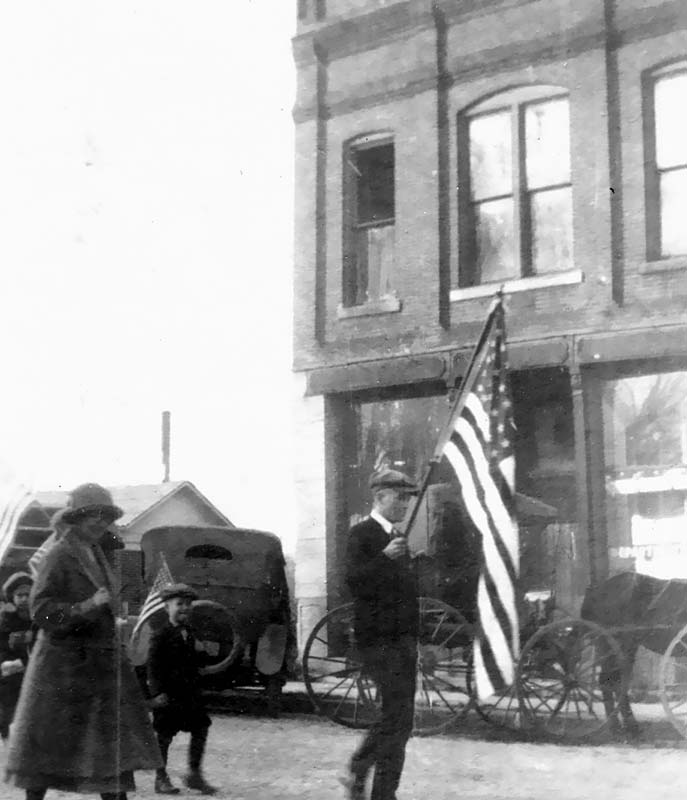 HERBERT CAMPBELL CARRYING THE FLAG IN THE SCHOOL PARADE FOR ARMISTICE DAY - NOVEMBER 1921
Mother wrote on back of this picture: Brundige
Bldg. (?) in background on West Main Street, Cardington, Ohio.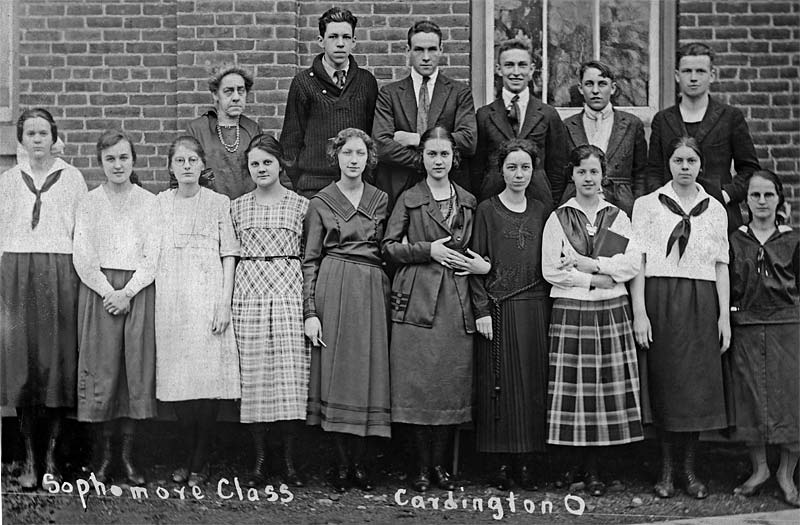 1920 - 1921 Sophomore Class Cardington High School
Harold Steward on the left and Herbert Campbell on the right.
Names of those in the picture Left to Right Back Row: Miss Lillian James (teacher), Harold Steward, Orville Philbrook, Harold "Lefty" Sherman, Walter Barton,
Herbert Campbell, Front Row: Maude Bond, Wanda Pringle, Ruth Long, Helen Fiaut, Vesta Arnold, Cheryl Miller, Miss Bates (teacher), Helen Farrington, Katherine Kreis, Mabel Cox.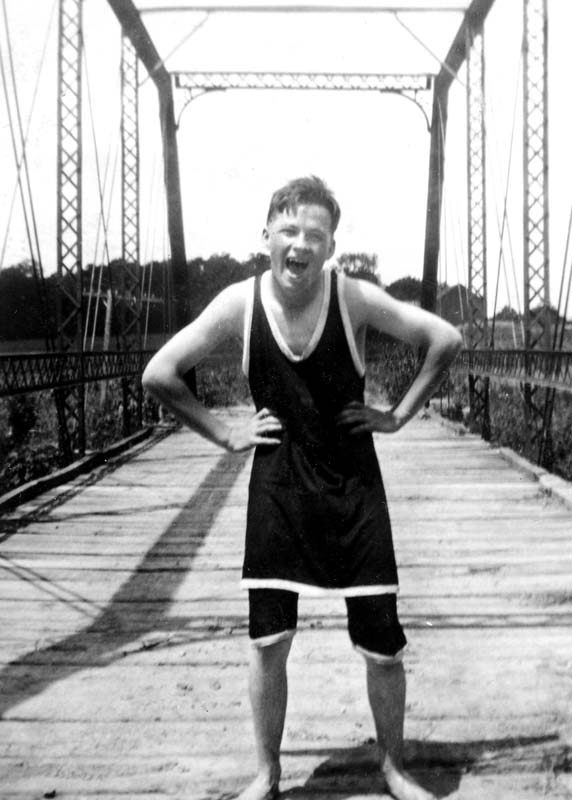 HERBERT IN BATHING SUIT! 1922.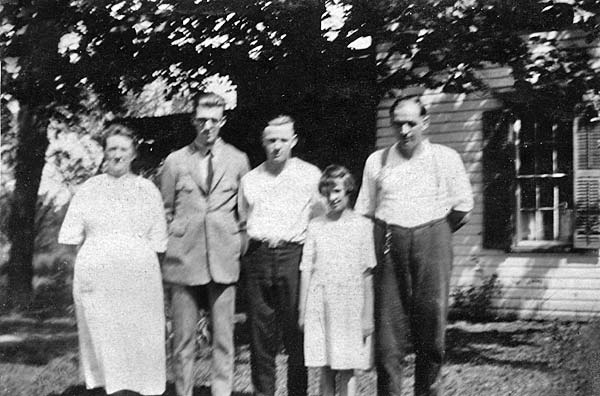 The whole family, picture taken on the Burr Place summer of 1922.
Herbert was also an Artist !
When I was young, I used to love watching my dad drawing pictures. Following are some that he drew. The scribbles on some of them are "my help".