Jean Dolores Campbell, April 5, 1931.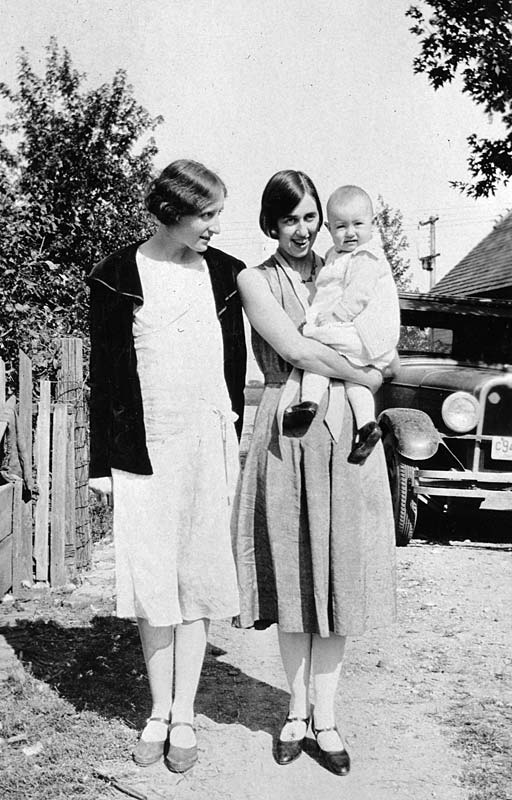 Aunt Mildred, Hazel and Dolores Campbell.
Picture taken at the Herbert Reunion Sept. 7, 1931.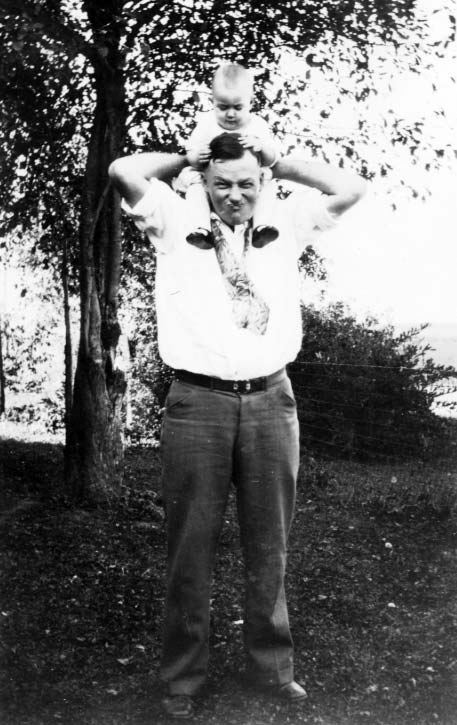 Herbert and Dolores Campbell.
Picture taken at the Herbert Reunion Sept. 7, 1931.
Sometime around 1935, they sold the house on West Main Street and bought a house on South Marion Street. My dad, Herbert, remodeled it while we were living in it. I remember having to walk to the "little house out back" until he got a bathroom in this house. I didn&Mac226;t like that much! When it was my bath time, they would get out the tub and put it in the kitchen. Then they would heat water, put it in the tub and that is where I had my bath! It was at this house that my dad was working in one of the bedrooms and left his tools lay. There was a drill that I was fascinated with. I thought it was like an eggbeater. I decided to try it and broke the bit. I didn't get scolded. I think he was glad I was interested in it. He always showed me how to use different tools and told me if I was going to use them I had to use them the right way. In later years, I realized I really learned a lot from him. We had a little bit of land with this house. We had a cow, chickens, and a big garden. We also had the horse, Pet, that had been Great-Grandpa Campbell's. Most of the time, Pet didn't have to do anything. My dad would usually plant one field of corn. He would use Pet to plow. My dad would cut the corn and put it in shocks. I loved going to the field with him when he went to husk the corn. I just waited for him to find a red ear of corn.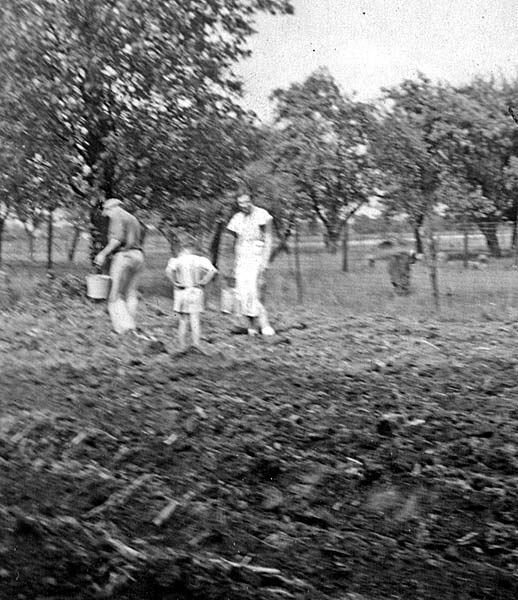 HERBERT, JEAN AND HAZEL CAMPBELL PLANTING POTATOES.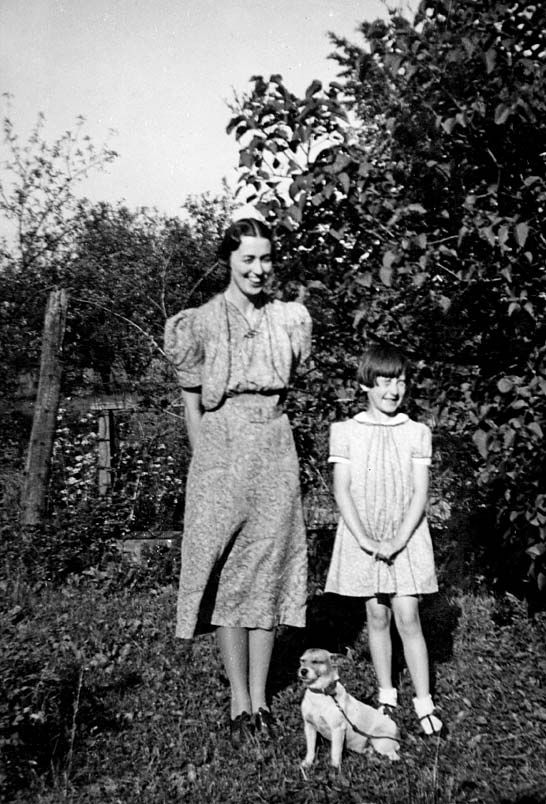 HAZEL, JEAN CAMPBELL AND PATTY ROSE, SUMMER 1937.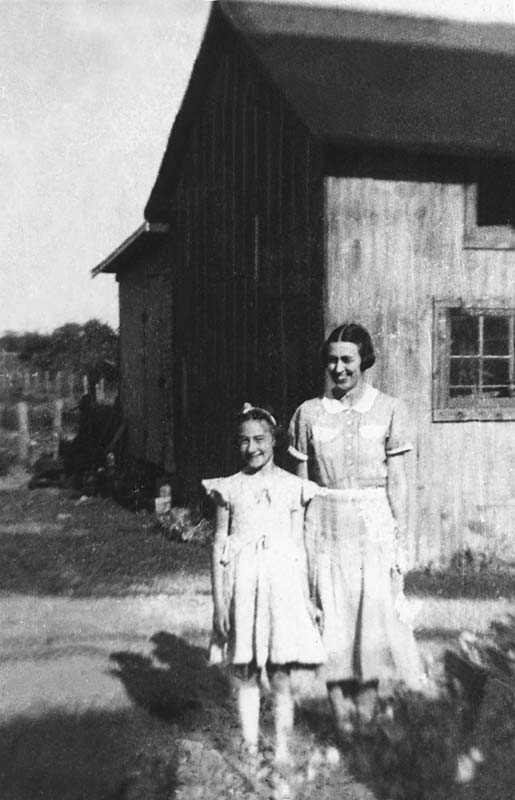 JEAN AND HAZEL CAMPBELL
In front of barn on South Marion Street - 1940.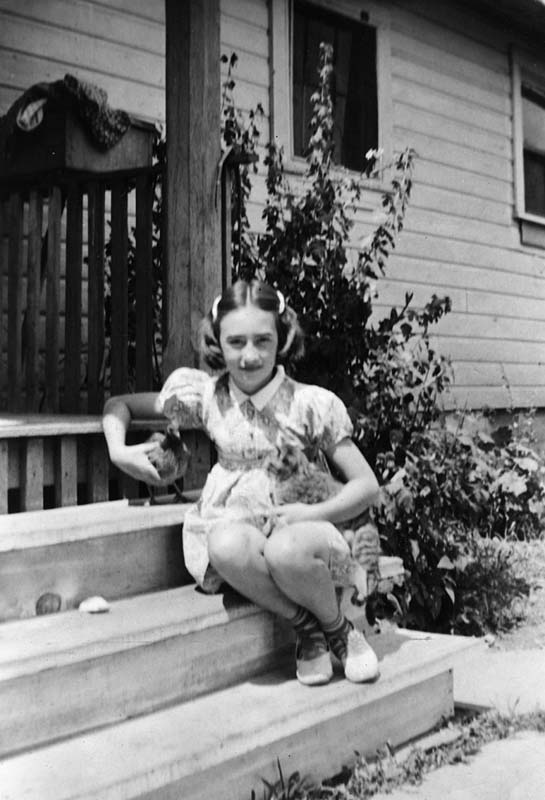 JEAN CAMPBELL ON BACK PORCH STEPS OF SOUTH MARION STREET HOUSE
Holding Brownie, a pet Banty hen and Michael Tige, the kitten. September 1940.
About 1941, the South Marion Street house was sold and another home was bought at 100 Morgan Street.
We lived with my Grandmother Druzilla Campbell for a short time while my dad did some remodeling on this house. After we moved there, there was still a lot of remodeling to do. This property had forty acres which was all in town.
A creek (Whetstone) ran along one side of the property.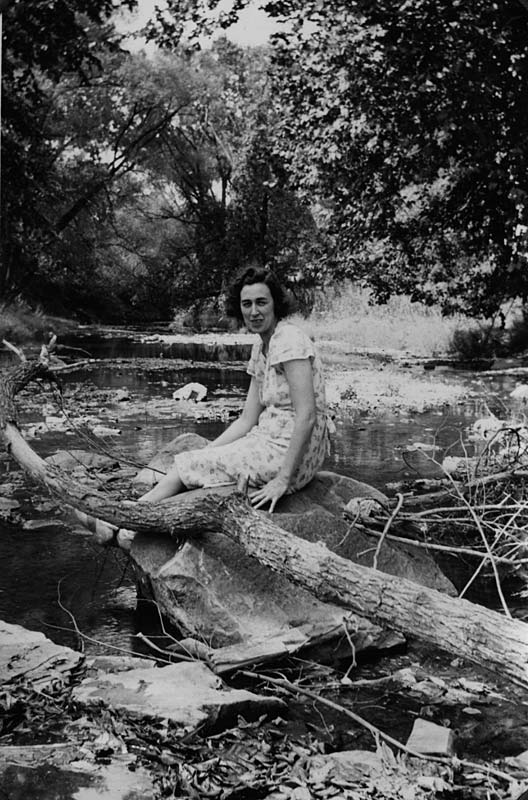 Hazel sitting on a rock in the middle of Whetstone Creek. Sept. 7, 1942.
We had some cows and raised pigs here. We had a large "Victory Garden" in which we all worked. Because of World War II, my dad worked 12-hour days. He had me do as much as I could (like mixing up food for the pigs) so that when he got home, he didn't have so much to do.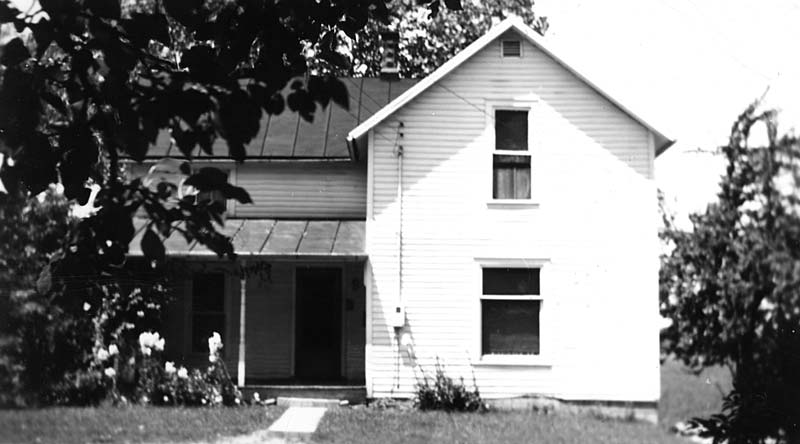 100 MORGAN STREET, CARDINGTON, OHIO, 1940 - 1948.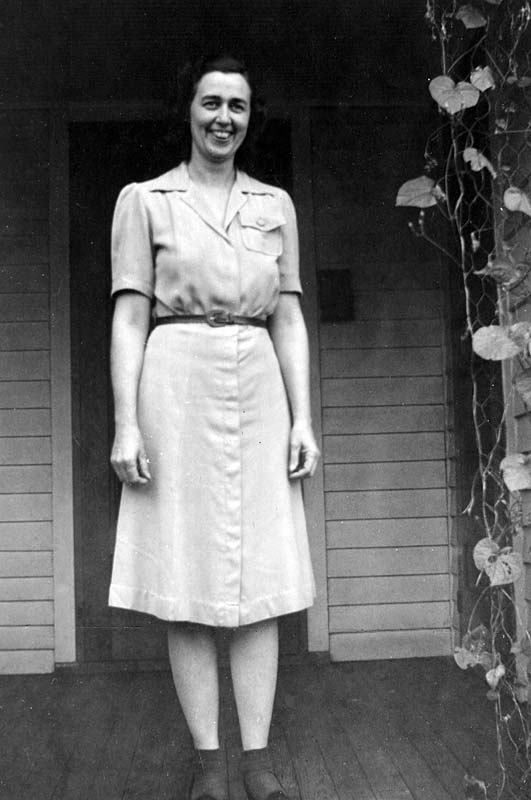 HAZEL CAMPBELL IN GIRL SCOUT LEADER UNIFORM
She is standing on front porch of the Morgan Street house.
In 1948, the Morgan Street house was sold and my dad started building another house on West Main Street. It was right beside the first house he built.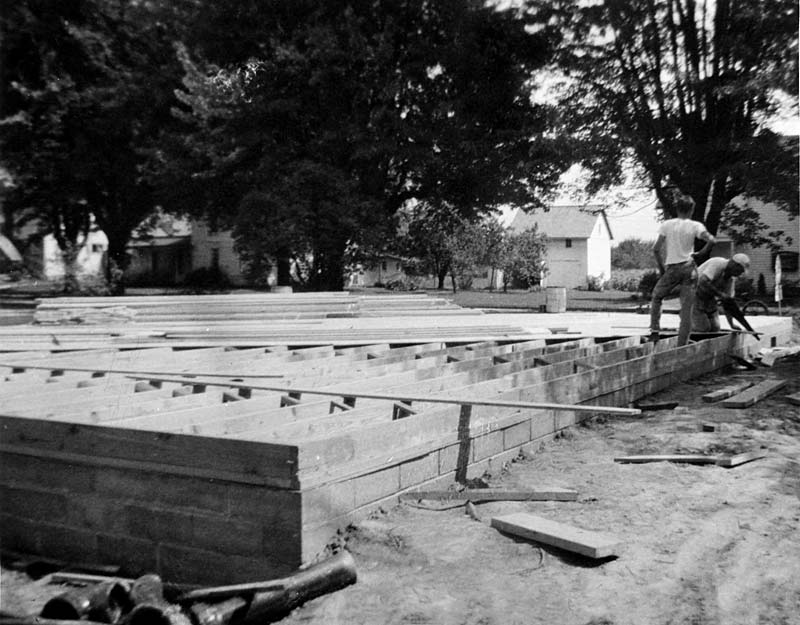 HERBERT STARTING NEW HOUSE AT
423 W. MAIN STREET, CARDINGTON, OHIO, AUGUST 1948
I (Marlen) can remember Uncle Herbert making everyone of those cement blocks down in their basement on Morgan Street. Uncle Herbert was a real craftsman.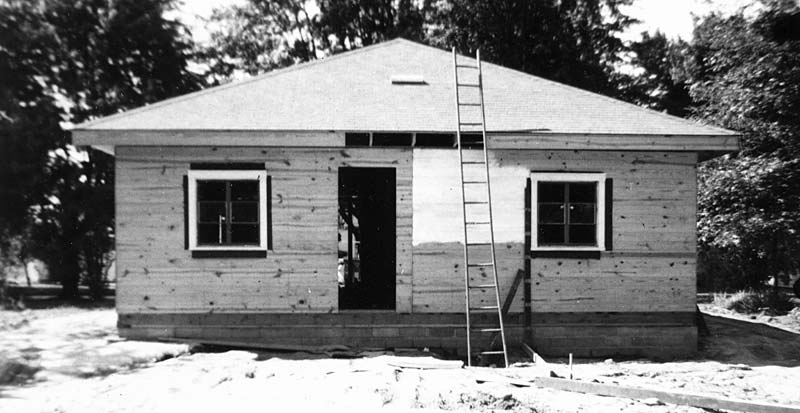 BACK OF NEW HOUSE AT 423 W. MAIN STREET
SUMMER 1948.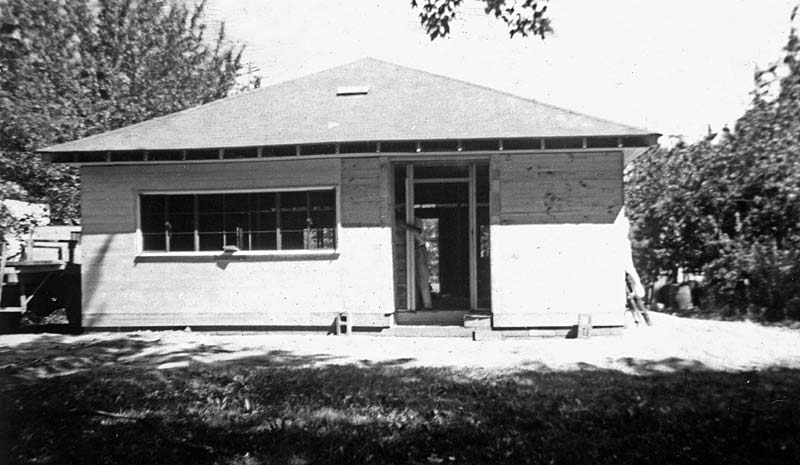 FRONT OF NEW HOUSE AT 423 W. MAIN STREET
SUMMER 1948.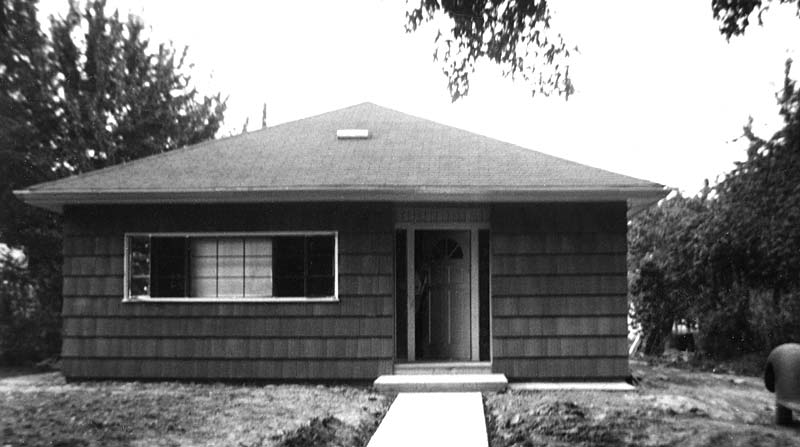 FINISHED HOUSE AT 423 W. MAIN STREET
SUMMER 1948.
Sometime in 1952/53 they sold this house. My dad started building a new one at 524 South Marion Street. This house was built of bricks. My dad laid all the bricks, did the plumbing, heating, and everything by himself. I think this was the nicest house he ever built.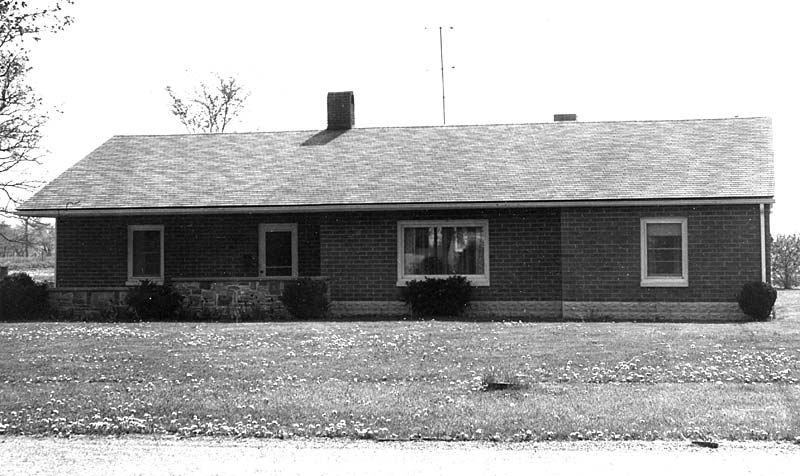 HOUSE AT 524 SOUTH MARION STREET, CARDINGTON, OHIO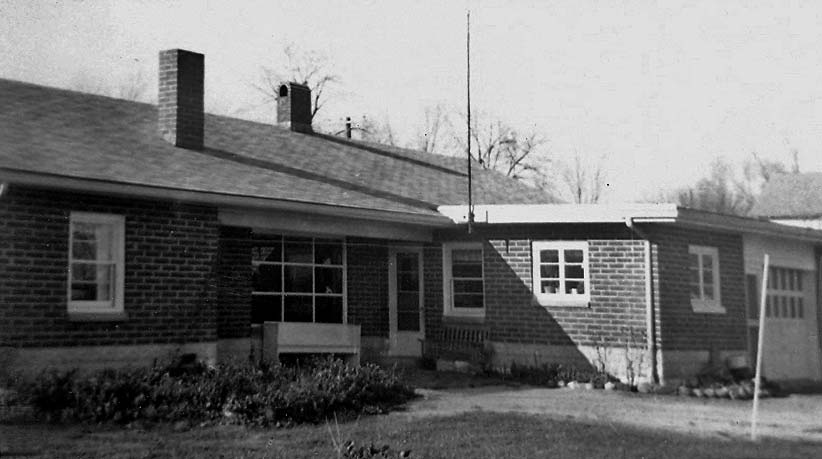 BACK OF HOUSE AT 524 SOUTH MARION STREET.
I don't remember the dates, but my mom and dad sold this house and built another new one. It was at 207 Center Street, Cardington, Ohio. It is hard to believe, but out of all pictures I have, there aren't any showing the front of this house.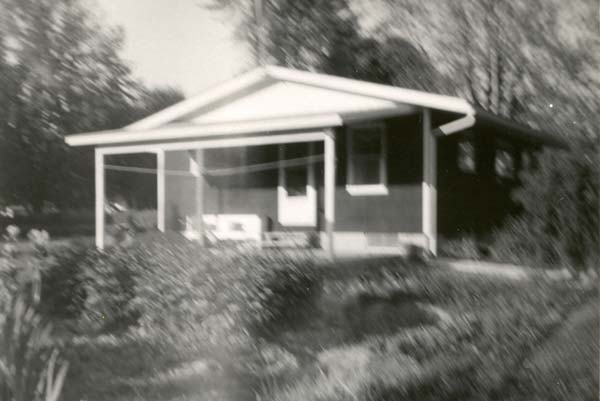 BACK OF HOUSE AT 207 CENTER STREET, CARDINGTON, OHIO.
I don't remember the date, but in the late 1950's, my dad built another house next to this one at 205 Center Street.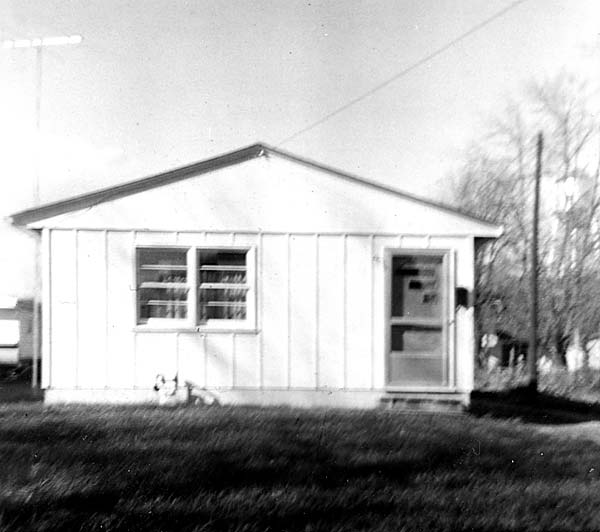 205 CENTER STREET HOUSE.
He built this house for my grandparents, Nellie and Lennie Russell. Using the buildings around the haybarn, he built this house in sections over the winter. In the spring, these sections were hauled to the 205 Center Street lot. By evening, there was a house there! People all over town were shocked. They couldn't understand how he could get a house up in one day! My grandfather (Lennie) died in 1966 and shortly after that, my grandmother needed a lot of help so my mom and dad sold the house at 207 Center Street and moved in with grandma.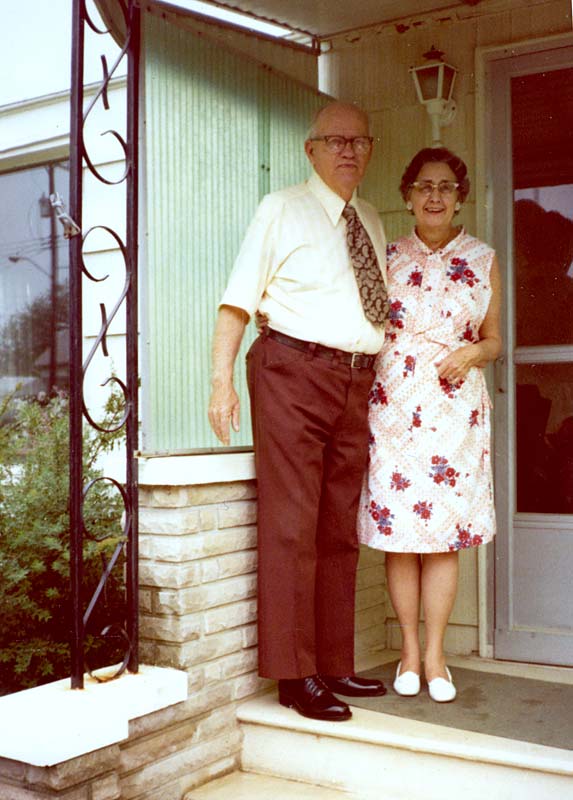 HAZEL AND HERBERT CAMPBELL - JUNE 16, 1974
This picture was taken at the 205 Center Street house.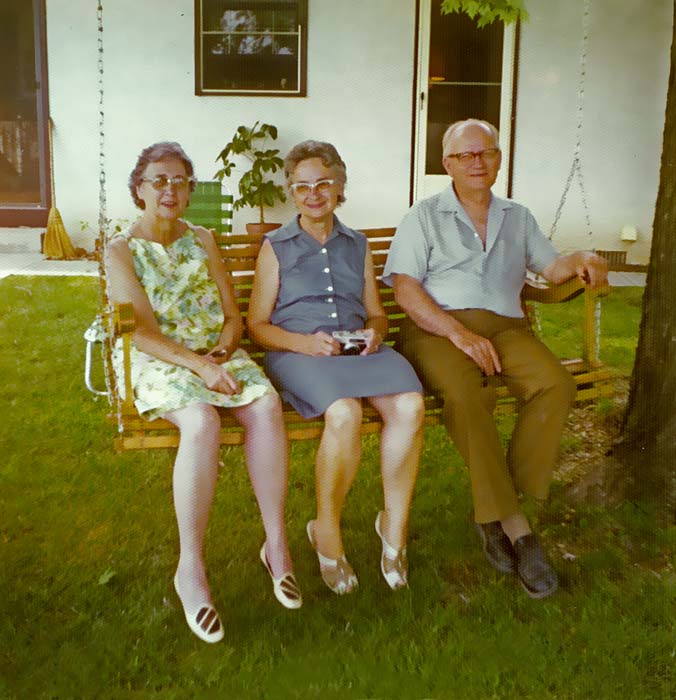 HAZEL CAMPBELL, RUTH CAMPBELL STEWARD AND HERBERT CAMPBELL
Written on the back of this picture: Hazel, Ruth and Herbert on the lawn facing Buckeye Lake at George and Jane Sandusky's house. 1974.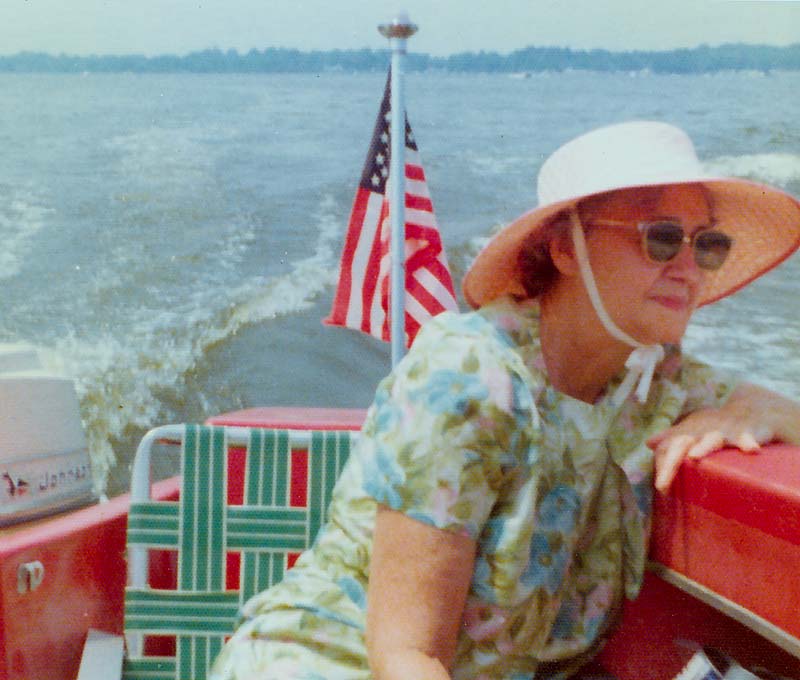 HAZEL CAMPBELL ENJOYING A BOAT RIDE ON
BUCKEYE LAKE, OHIO, AUGUST 1974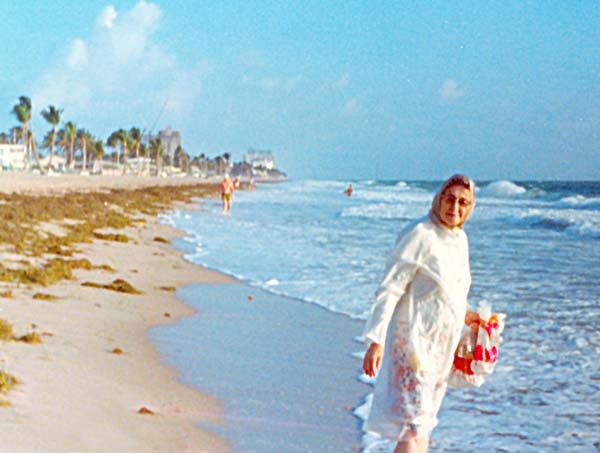 Mom wrote on back of this picture:
Hazel E. on the beach at Ft. Lauderdale
while waiting for the sunrise - about 6:30 a.m. January 1975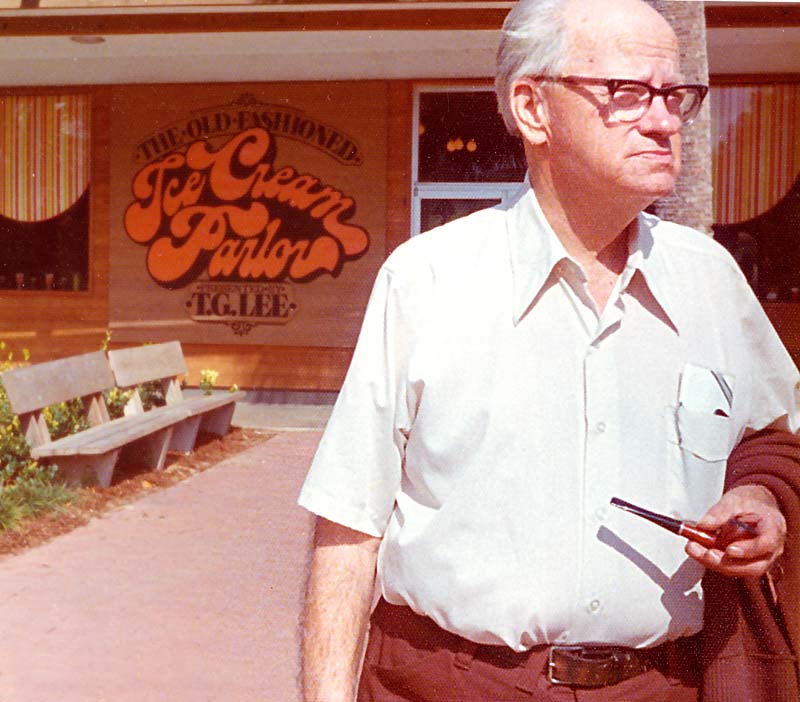 HERBERT CAMPBELL IN FLORIDA - 1975
On back of picture, mother wrote: On our way home from Florida, 1975. We stopped at Silver Springs near Ocala, had our lunch at this Gay 90's Restaurant and Ice Cream Parlor. Then rode in glass bottomed boat. Took pictures and fed the fish.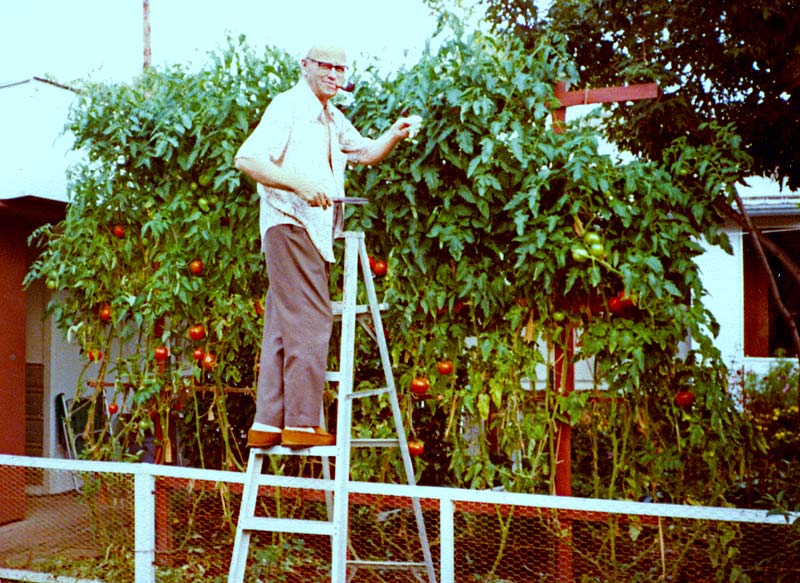 HERBERT ON 6 FOOT LADDER CHECKING HIS 1977 TOMATOES
My dad didn't really like parties and so I knew he would hate having one for their 50th wedding anniversary. They both loved being at the lake (Buckeye Lake) so we had a party that was just for family. We had a picnic along the water. We had 50th everything - table cloth, napkins, flowers, cake, etc. They couldn't have been any happier. After the picnic, we took them for a boat ride.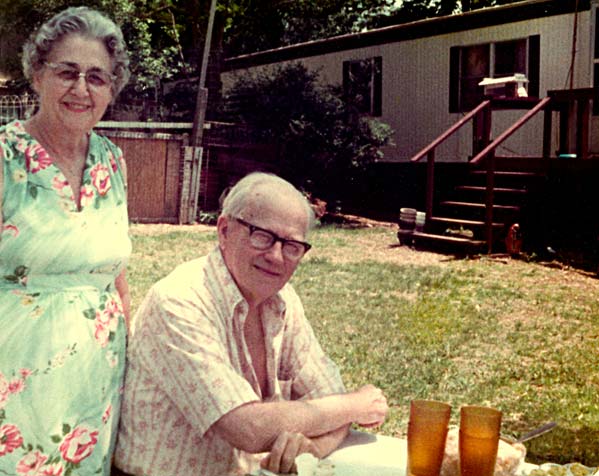 HAZEL AND HERBERT'S 50TH WEDDING ANNIVERSARY - MAY 27, 1978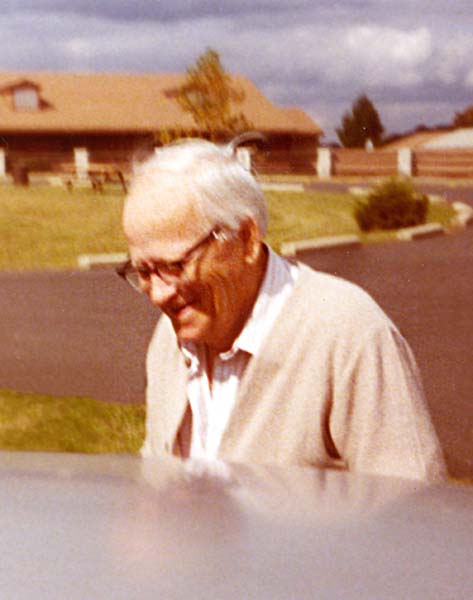 HERBERT AT MOHICAN STATE PARK IN 1978
Mother wrote on back of this picture:
Herbert, Ruth and I at Mohican.
He had probably just played a joke on his sister, Ruth. He looks like it!



Sometime in 1978, they sold the house at 205 Center Street in Cardington, Ohio and they moved to Reynoldsburg, Ohio. They moved into a Senior Citizen Apartment at Seton Square East. They liked it there very much.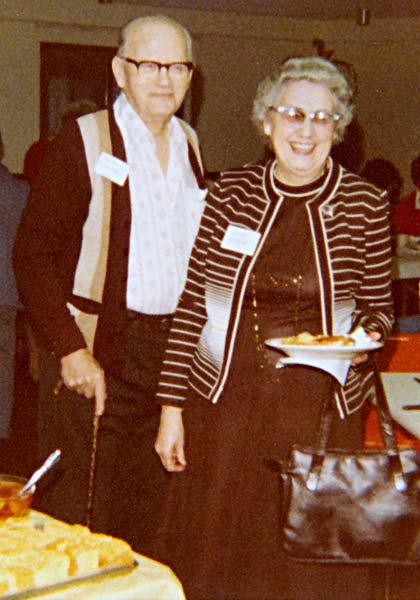 HAZEL AND HERBERT AT A PARTY IN THE LOUNGE AT SETON SQUARE EAST
This picture would have been taken around the time they moved here.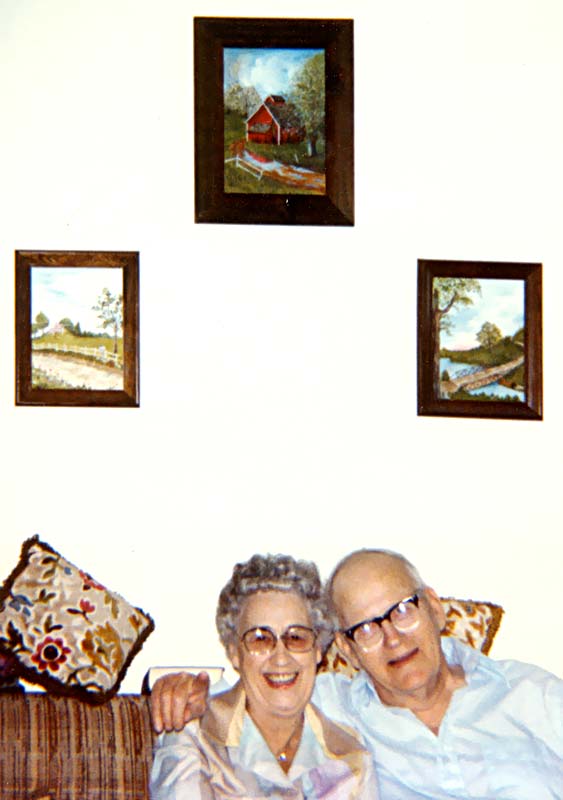 HAZEL AND HERBERT'S 54th WEDDING ANNIVERSARY, MAY 27th 1982
The pictures on the wall were painted by Hazel.
It was while they were living at Seton Square East that she really got into painting.
Following are pictures of some of the paintings she did.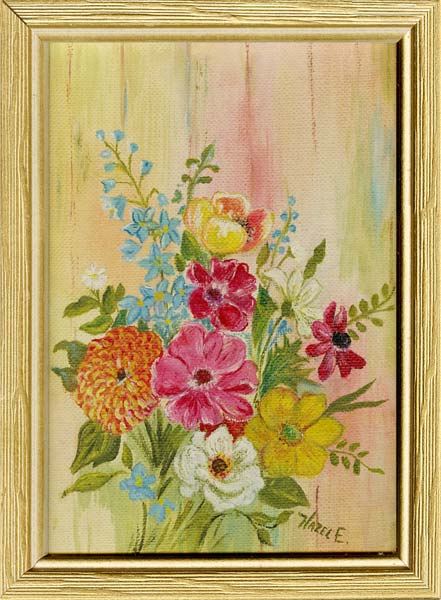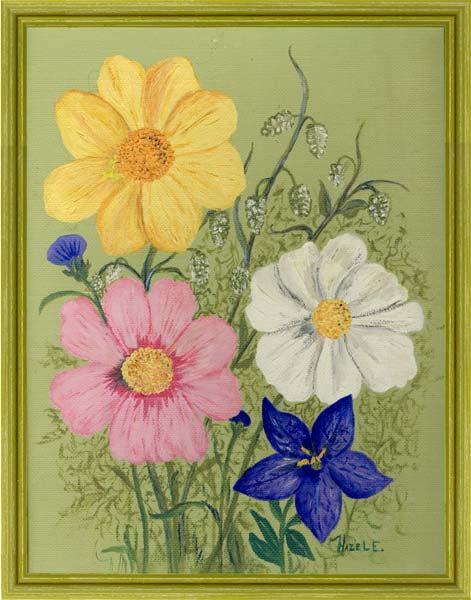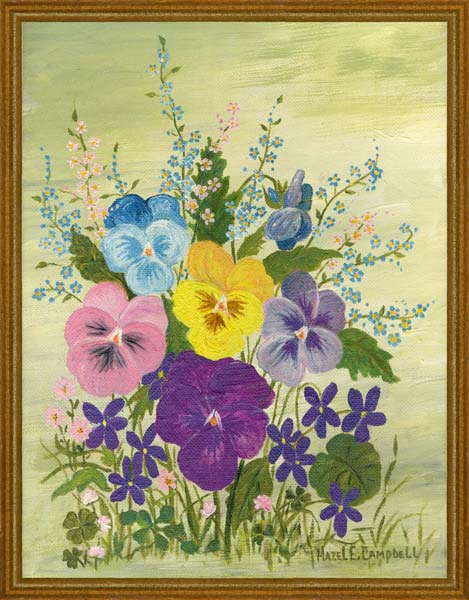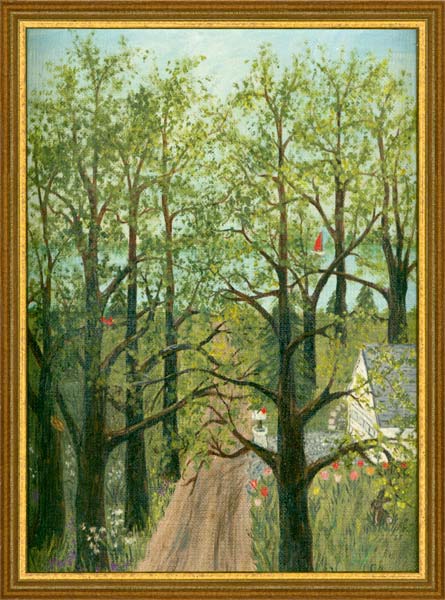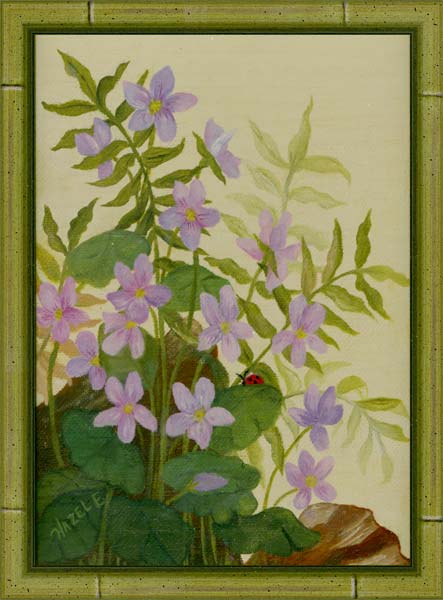 A card in envelope on back of picture. She wrote on envelope - I painted "Birthday Violets" from this birthday card from sister (Ruthetta Gist Cook).
Finished painting Feb. 19, 1979 - HEC (her initials).
She loved signing things By HEC (heck).