They had three children. Eugene Lockworth was born August 14, 1882, Nellie Dell was born December 25, 1884 and Ellsworth W. was born August 6, 1889 but only lived one day. He died August 7, 1889.
They lived and farmed at South Woodbury, Ohio. When his mother, Martha Ann Joy James, fell and broke her hip he sold the farm at South Woodbury and they moved in with his mother and father. That was probably about 1893.
My mother, Hazel, left notes telling things she remembered about her Grandfather Monty and things she remembered about being at Grandma and Grandpa's (James). This is what she wrote:

I remember big old iron cookstove in summer kitchen out to grandpa's. He took one of the lids off and popped corn in a wire popper over the hot coals. I loved to see the kernels pop, big and white.
I remember being his pride and joy. He brought me my first dolly – a little tin head.
Before I was six, out at grandpa's and grandma's I can remember – the tall and low windows where I stood to watch the kids go past to Goosehaven school. The striped sack of peppermint in top chest of drawers. Grandpa lying in hickory "lazy boy" rocker, me stroking his very dark (black?) hair or him pretending to snooze, us laughing. The yellow and red Post Toasties box.
E. M. JAMES
A Well Known Farmer Dies Suddenly Friday Morning
E. M. James, a well-known farmer, died suddenly Friday morning at his home, east of Cardington. He had risen shortly after 6 o'clock Friday morning and an hour later was found dead by his wife. The body was lying on the floor near a chair on which it is believed he had sat down to put on his overshoes in preparing to do the morning chores. He departed this life at the age of 54 years and 10 months, apoplexy being the cause of his death.
Mr. James only last week sold his farm and the day before his death was in Cardington looking for a house, expecting to move to town on account of his wife's ill health.
Funeral services were held Sunday afternoon at the late residence. Services were conducted by Rev. J. H. Smith.
Edward Montalban James, son of L. W. and Martha Joy James, was born April 6, 1859, in the house where his life ended, Feb. 6, 1914. He was married June 17, 1880, to Miss Ollie Smith, who with one son, Lockworth James, and one daughter, Mrs. Nellie Russell, is left to mourn the loss of one of the best of husbands and fathers.
The first fifteen years of his married life were spent on a farm near South Woodbury, where in 1880 he gave his heart to God and his hand to the church, His membership in the Woodbury M. E. church was retained until his removal to Cardington, nineteen years ago. His unusual kindness to others, his tenderness of heart, his patient endurance of trials, his devotion to his invalid wife and mother, are proof positive of his Christian spirit.
Besides his immediate family, an aged mother, a sister (Mrs. Ollie Stovenour), a brother (A. W. James), and a little granddaughter (Hazel Russell), tenderly loved and his constant companion, grieve at the loss of a truly good man. Without a moment's warning he was called from earth to the life beyond. He had often said that he was willing to go at any time, and though he was glad to live for his family, perhaps death came as he would have had it. Though the shock of his loss is almost more than his loved ones can bear, we know that he has at last found rest.
We cannot understand why one so good, so helpful and so sorely needed must be taken from us when still in life's prime. We can only bow our heads in submission, and trust that our eternal reunion will be the sweeter for this untimely separation. Our greatest comfort and consolation is the tender memory of our loving family association, for a renewal of which we confidently wait.
The widow and children wish to express to the neighbors and friends their appreciation of the kindness shown them during this, their hour of grief, also for their gifts of flowers and to the singers who so kindly assisted at the services.
The tired body was tenderly laid to rest in Glendale cemetery.
Olive Elizabeth was my grandma's mother so she was my great-grandmother. She was born on May 26, 1861 to Elizabeth Speck Smith and William Henry Smith. She was the youngest of twelve children, five sisters and six brothers.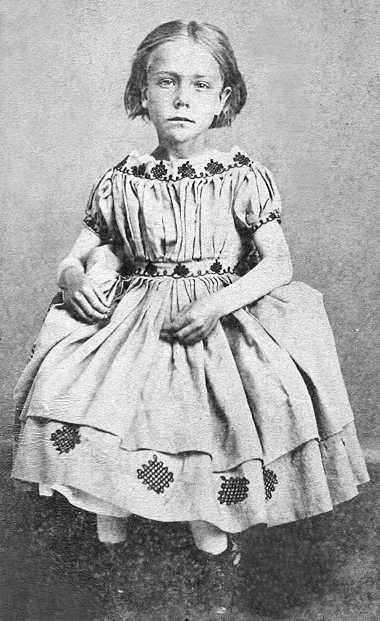 OLIVE ELIZABETH SMITH – NO DATE
J. H. Worline was the photographer in Cardington, Ohio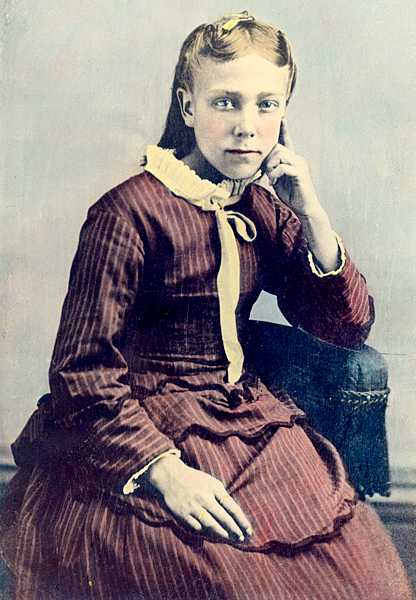 OLIVE ELIZABETH – No date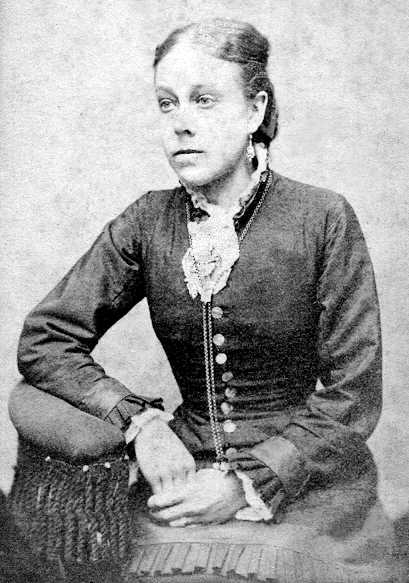 OLIVE E. SMITH
H. F. Knoder, Photographer, Cardington, Ohio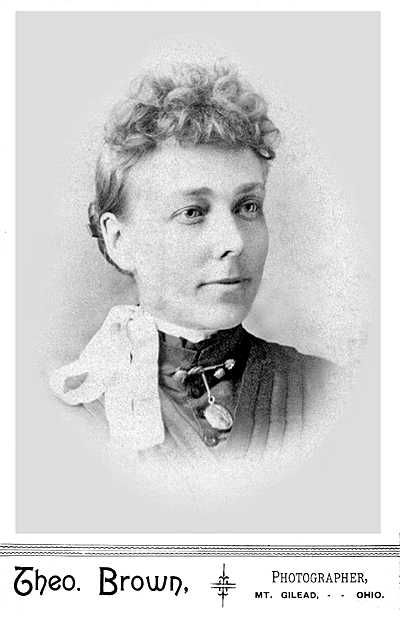 OLIVE ELIZABETH SMITH JAMES - No date
Things Grandma Hazel remembered about Grandma and Grandpa James' house:

The table covered with cheesecloth which grandma had hemmed with red feather stitch. Underneath it, the spoon holder, cracker jar, sugar, salt, pepper, vinegar, etc.

The back room and wood stove – popcorn in wire basket. Grandpa took off his boots there before coming on into house. (He died doing that.) There was a wood stove in the living room.

"Reading" magazines with pretty lady pictures. Godey Ladies. Magazines were stored in a long room at back of home probably.

Little lady in big bed – grandma and grandpa's.

Grandma had been a teacher and in her gentle way taught me many things. One time though, she must have been exasperated – she snapped my finger when I persisted in tossing the thread the wrong way, when she was teaching me to crochet a chain stitch. I didn't forget anymore!

After Monty passed away on February 6, 1914, she went to live with my Grandma (her daughter) and Grandpa Russell and my mother, Hazel.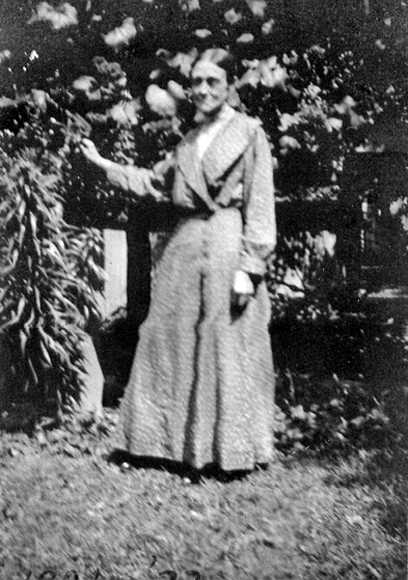 OLIVE ELIZABETH
Picture probably taken in 1922 not too long before she died.
MRS. OLLIE JAMES
Dies Unexpectedly at Home of Daughter Monday Morning
Mrs. Ollie E. James, aged 61 years and 10 days, passed away at the home of her daughter, Mrs. L. S. Russell, Monday, June 5, 1922, about 7 a. m.
She was the daughter of Wm. and Elizabeth Smith and was born May 26, 1861, in Cardington Township, Morrow County. June 17, 1880, she was united in marriage with Edward Montalban James. To this union were born three children, one of whom and the husband having preceded her in death. The deceased is survived by one son, E. L. James, and one daughter, Mrs. Nellie D. Russell, with whom she made her home, and one granddaughter, Hazel E. Russell; two sisters, Mrs. I. A. (Julia Ann) Collins, of Kansas, and, Mrs. E. Y. (Emily Isabel "Belle") Kingman, of Cardington; and three brothers, J. (John) B. (Britton) Smith of Cleveland, L. (Leander) W. (William) Smith of Oregon and H. (Henry) C. (Clifford) Smith of Cardington, also survive.
Her membership was retained with the Woodbury M. E. church until about a year ago when she affiliated with the M. E. church at Cardington. She was a faithful and devoted member of the Willing Workers Sunday school class and always took an active part whenever her health would permit.
Funeral services were held in the M. E. church Wednesday afternoon at 3:30, conducted by her pastor, Rev. J. P. Wiseman.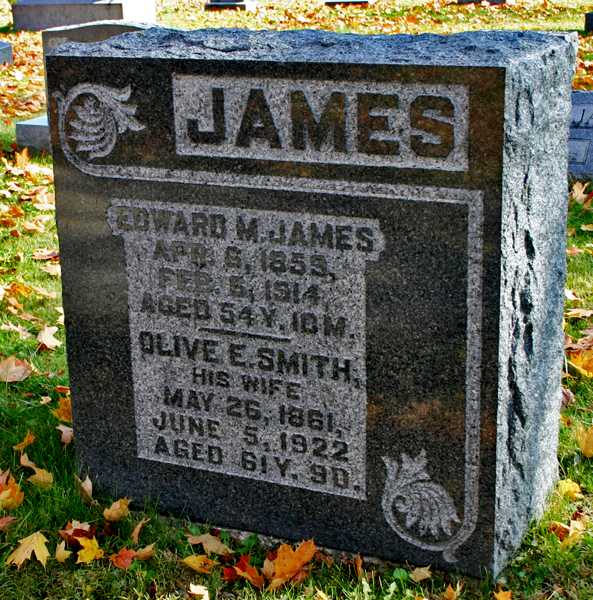 Glendale Cemetery in Cardington, Ohio