Lennie was my grandfather (my mother's father).
He and his twin brother (Lonnie (Alonzo) Danford) were born to Abraham Virgil Russell (also known as Virgil John) and Louisa Jane Godfrey Russell on December 18, 1881, in Lincoln Township, Cardington, Ohio. He had one other brother and four sisters.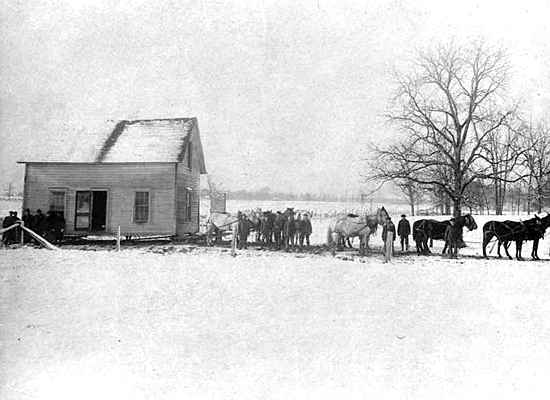 This is the house Grandpa Russell was born in. This picture was taken in 1909. When he was born, the house was located just north of Center Church and moved to town by Wat Shaw. The house stands east of Cardington School (the old school). This picture was taken 2 miles south of town (Cardington) just at end of road. Moved by bob sleds. Going south on Center Street from Nichols Street, this is 3rd house on the right. Teamsters moving the house were: Floyd Benson, Ellis Campbell, Wm. Denton, and Wm. Rathburn.
Grandpa went to live with Sarah and Jonas Alspach when he was eighteen months old. He called them grandpa and grandma even though they weren't really his grandparents. They had raised his mother so I think that is why he called them grandpa and grandma.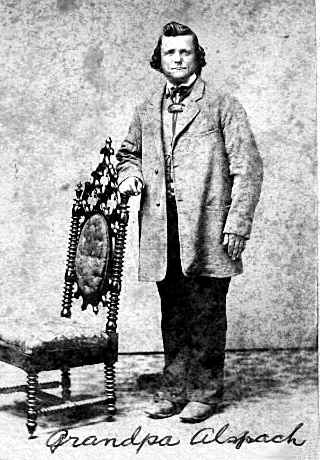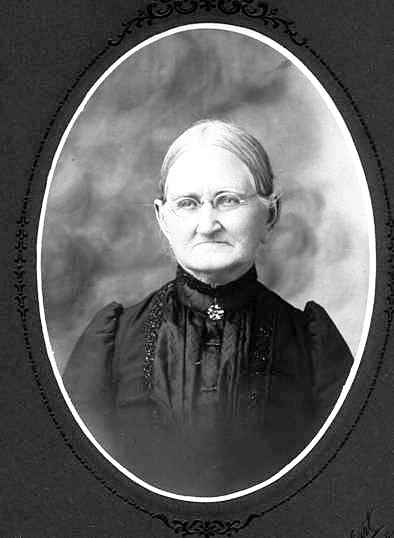 GRANDMA SARAH ALSPACH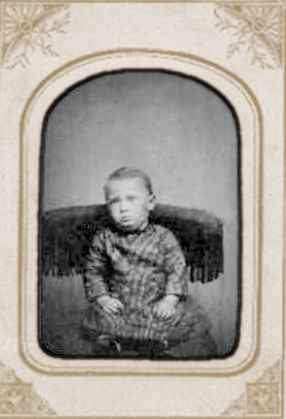 L. S. RUSSELL, 1 YEAR OLD MAYBE?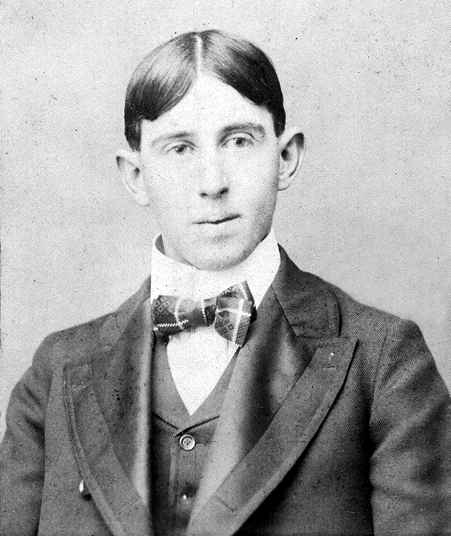 L. S. RUSSELL, A TEENAGER MAYBE?
Grandpa married Nellie Dell James on May 27, 1903 at the Methodist Church in Cardington, Ohio.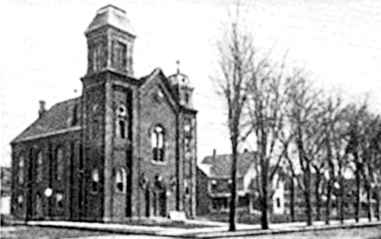 METHODIST CHURCH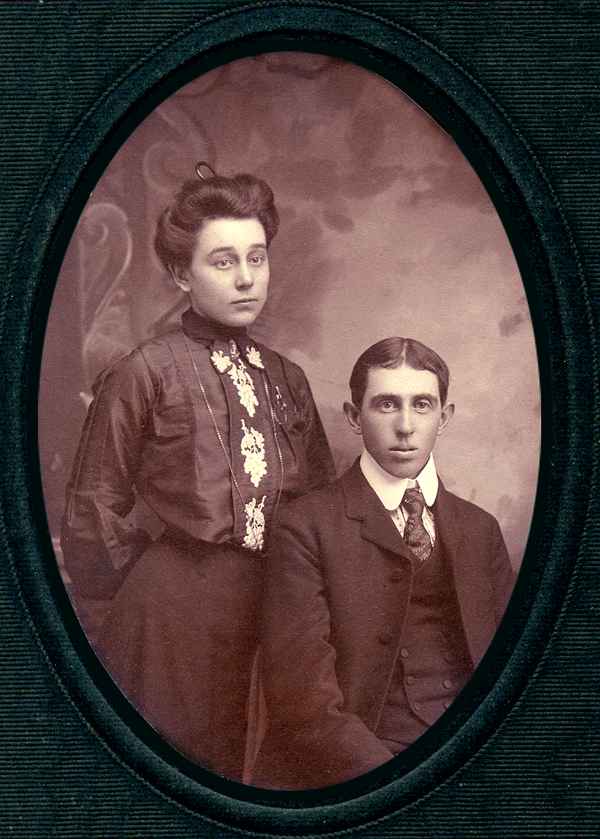 LENNIE AND NELLIE'S WEDDING PICTURE
Grandma Hazel wrote on back of this picture. Their wedding picture. They look scared. Mother told me her blouse was a pretty dark green. How pretty she would have been, with her "mahogany" auburn hair.


Lennie and Nellie had one daughter, Hazel Elizabeth Russell.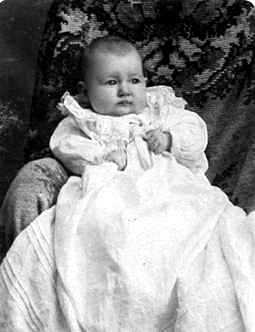 HAZEL - 5 MONTHS OLD - 1908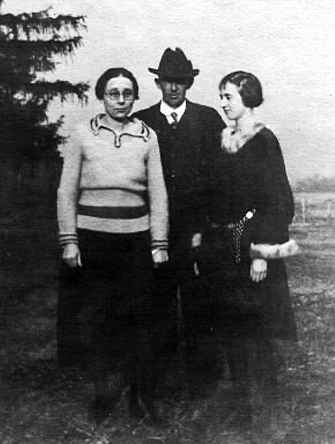 NELLIE, LENNIE, AND HAZEL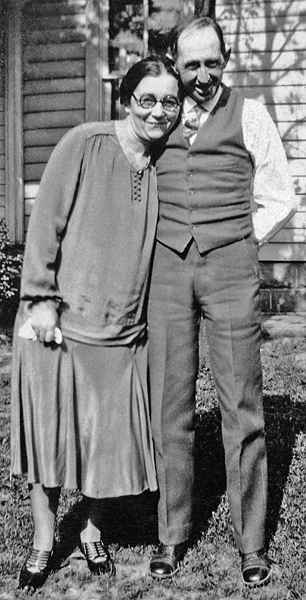 NELL and LENNIE May 1928
Married 25 years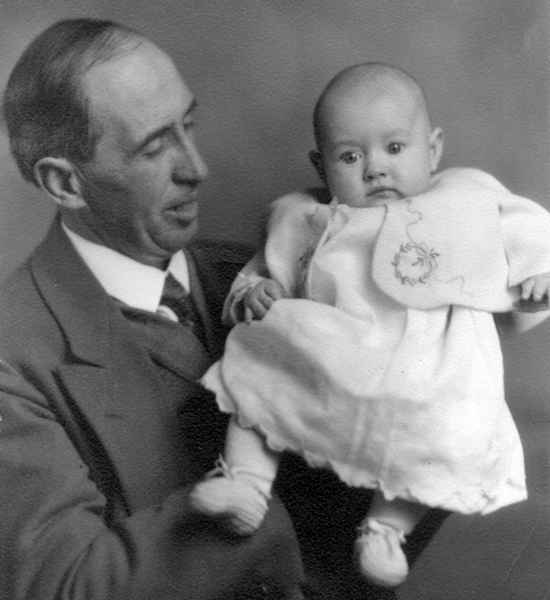 GRANDPA RUSSELL AND I (JEAN CAMPBELL) - DECEMBER 1930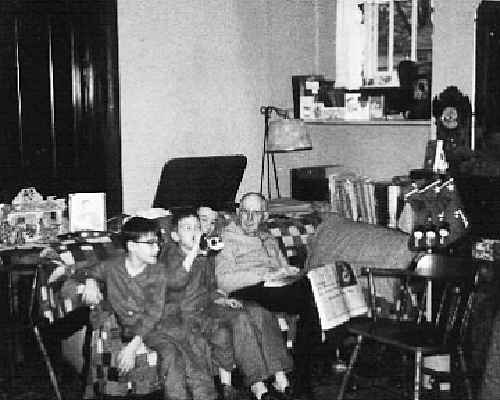 GRANDPA RUSSELL AND GREAT-GRANDCHILDREN - DANA, BRET, AND STEVEN WINCHELL - DECEMBER 1964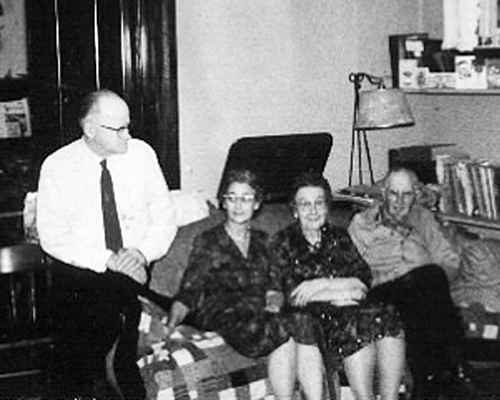 HERBERT AND HAZEL CAMPBELL, NELLIE AND LENNIE RUSSELL DECEMBER 1964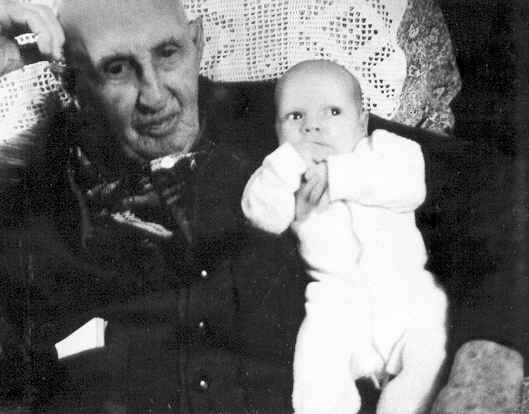 GRANDPA RUSSELL AND GREAT-GRANDSON JOHN WINCHELL JANUARY 1965
I think the pictures above are the last pictures taken of grandpa before he died February 3, 1966. He would have turned 84 years old in December 1965. He still went to his office everyday and would always stop at the post office and pick up his mail. He fell on the ice and broke his hip. He had to have surgery but the doctor said the shock of the surgery was too much for him and he died. The doctor also said he had never seen a person that age with bones like he had. They were spongy like a child's.
Grandpa's obituary.
L. S. RUSSELL ORIGINATOR OF BLACK RACCOON AND TOWN'S OLDEST BUSINESSMAN, DIES
Lennie S. Russell, 84, who gained worldwide recognition as a developer and breeder of genuine black raccoon, died early Wednesday afternoon in Morrow county Hospital of complications resulting from a fractured hip.
He suffered a fractured hip on January 25 when he fell on ice and snow while walking from the Cardington post office to his real estate office on Second Street.
Mr. Russell was Cardington's oldest business man, and had been engaged in various business enterprises for 60 years.
As a young man he bought and sold hay, timothy seed and furs, and erected in 1908 the warehouse building on West Main Street, known as the Russell Hay Barn.
An avid hunter most of his lifetime, Mr. Russell, by breeding developed the original strain of black raccoon which were marketed worldwide through the period after World War I to the depression years of the 1930's. Prior to the development of the black raccoon, he had raised fur-bearing animals, and had developed a strain of tame skunks.
In the 1920's he was active in the formation and operation of the Morrow County Gun Club, which attracted trap shooters to the club's grounds at Cardington from a wide area.
With the decline of the raccoon and hay business, due to changing economic conditions, Mr. Russell entered the feed and farm implement business and in recent years had been actively engaged in real estate. He was the immediate past president of the Morrow County Realtors Association.
In addition to his business activities, Mr. Russell also had served as Mayor of Cardington, member of council and member of the board of public affairs.
He had been a member of the Cardington Lodge of Masons for more than 50 years. A lifelong resident of Cardington, Mr. Russell was one of twin sons born December 18, 1881, to Virgil and Louise Godfrey Russell, His marriage to Miss Nellie James was solemnized in the Methodist parsonage at Cardington, May 27, 1903.
In addition to his wife, he leaves a daughter, Mrs. Hazel Campbell of Cardington; a granddaughter, Mrs. Jean Winchell of Newark, and five grandchildren.
Funeral services will be held Saturday afternoon at 2 o'clock in the Curl Funeral Home.
Masonic services will be held Friday evening at 7:30 o'clock.
He is buried in Cardington Glendale Cemetery.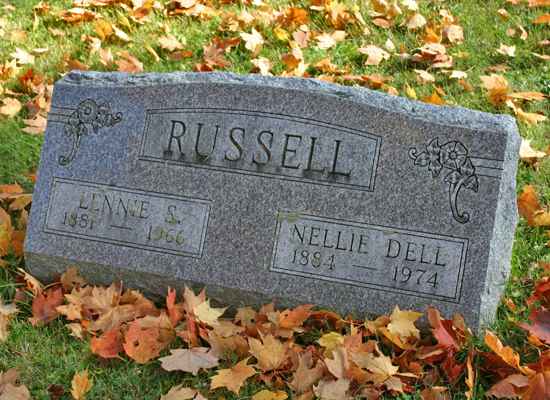 Just before grandpa died, he wrote many interesting things. He wrote about :
Interesting newspaper clippings were also found in his memoirs.